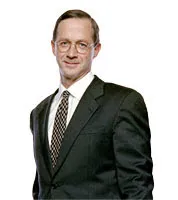 Don Elsey
Chief Financial Officer, Senseonics, Inc.
Don Elsey has served in executive finance positions for both privately and publicly held companies. He is currently Chief Financial Officer of Senseonics, Incorporated. Senseonics is developing the first fully implantable continuous glucose sensor designed for highly accurate, long-term wear. Previously, he served as the CFO of Regado Biosciences, a public biopharmaceutical company. He was the CFO of LifeCell, Inc., a private regenerative medicine company, from 2013-2014 and a Senior VP and CFO at Emergent BioSolutions, Inc., a public biopharmaceutical company, from 2005-2012.
Mr. Elsey also served as the Director of Finance and Administration at IGEN International, Inc., a public biotechnology company, and its successor BioVeris Corporation, from 2000 to 2005. He also served as Director of Finance at Applera and in several finance positions at IBM, Inc.
Mr. Elsey serves on the board of directors of RegeneRx Biopharmaceuticals, a public biopharmaceuticals company, as well as on the board of the Cancer Support Community. He received an MBA in finance and a BA in economics from Michigan State University.