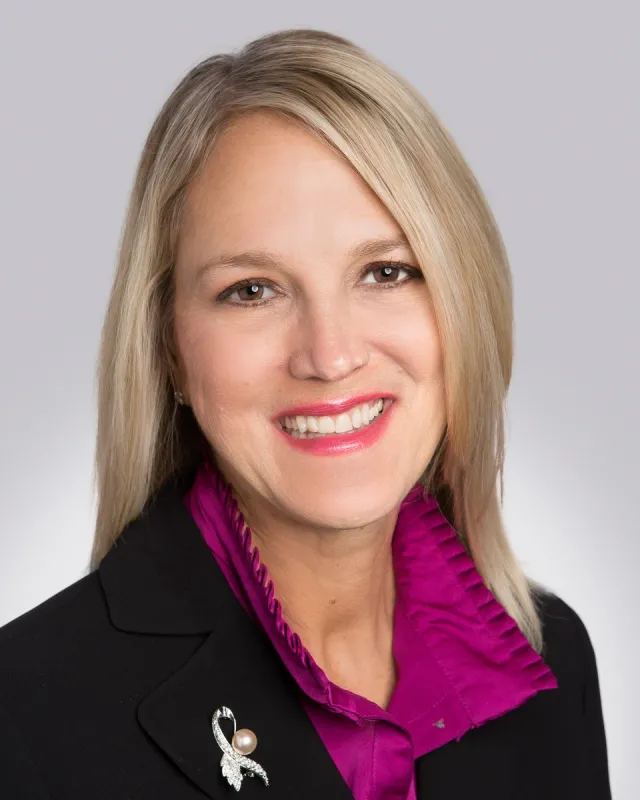 Debbie Weir, MSW
Chief Executive Officer
Debbie Weir joined Cancer Support Community in March 2022 as the organization's Chief Executive Officer. She is a visionary, passionate, and values-driven leader focused on making an impact. A social worker by training, Debbie has more than 30 years of proven success in nonprofit management in the areas of capacity building, programs, and services, fund development, board management, advocacy, strategic planning, and expanding visibility and influencing stakeholders to support mission priorities.
Debbie understands in a deeply personal way the impact of a cancer diagnosis and the critical importance of CSC's mission to serve patients and their loved ones. She lost her father to suicide after a lengthy, debilitating cancer diagnosis and treatment, cared for her mom who is a breast cancer survivor, and recently served for several months as her brother's primary caregiver until his death from cancer.
Debbie came to CSC from Everytown for Gun Safety, the largest gun violence prevention organization in the country with nearly 8 million supporters, including moms, mayors, survivors, students, and everyday Americans. Debbie focused on developing and executing the strategy for Moms Demand Action for Gun Sense in America and the Everytown Survivor Network, while implementing new initiatives, including Students Demand Action and programs focused on gun suicide prevention. 
Before joining Everytown, Debbie served as the Chief Executive Officer of Mothers Against Drunk Driving (MADD), leading the network of more than 200 MADD affiliates across the U.S. and spearheading efforts to end drunk driving, help fight drugged driving, serve the victims of these violent crimes, and prevent underage drinking. During Debbie's MADD tenure with the launch of the Campaign to Eliminate Drunk Driving in 2007, 30 states have passed model DUI all-offender ignition interlock laws, which have saved an additional 1,800 lives. Before her work at MADD, Debbie built and directed St. Paul's Hospice program in Dallas, after leading the Social Services Department at St. Joseph Hospital in Fort Worth for 4 years.
Debbie holds a master's degree in social work from Norfolk State University and a Bachelor of Science in Social Work from Longwood College. Her volunteer work includes serving on the National Board of Directors of the One Love Foundation and Safe Kids Worldwide. Debbie also serves as a volunteer on MADD's National Helpline and with Everytown's Survivor Network.