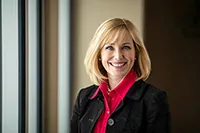 Holly Tyson
Chief People Officer, Cushman & Wakefield
Holly Tyson is the Chief People Officer at Cushman & Wakefield, a leading global real estate services firm. In this role, Holly is responsible for leading Cushman & Wakefield's human resources function and developing and implementing a customer-centric and results-focused people strategy for the firm's 50,000 employees globally. She is a data-led business leader with a particular focus on transformation and over 20 years of public company HR leadership.
Prior to joining Cushman & Wakefield, Holly served as the Chief Human Resources Officer (CHRO) at Zebra Technologies, a $4.5 billion hardware and software technology company. Prior to that, Holly was CHRO at DICK'S Sporting Goods, and before that, held the same role at The Brink's Company.
Holly holds a master's degree in Organizational Psychology from Columbia University and a bachelor's degree from William & Mary. She lives outside of Chicago with her husband and 2 boys and enjoys travel, skiing with her family, and fitting in a run every now and then.