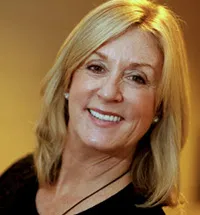 Jill Holler Durovsik
Founding Board Chair, Cancer Support Community
Jill Durovsik was a founding board member of the Wellness Community of Philadelphia (now Cancer Support Community Philadelphia) over 25 years ago and has served on its board in addition to serving as Chairwoman of the organization. Today, Jill serves on the board of the Cancer Support Community Headquarters and is Chairwoman of the organization's newly established Research and Training Institute. Ms. Durovsik's support and vision has been deeply inspired by family circumstance and has fueled her dedication to helping patients and families triumph over the threat of cancer in their daily lives.
After graduating Skidmore College, Ms. Durovsik entered the business world and spent the bulk of her career in financial services and building entrepreneurial companies. At Merrill Lynch she was responsible for developing marketing and financial products for worldwide distribution. Later, Ms. Durovsik founded Corporate Concierge Inc. and built it into a highly successful consumer services company.
Ms. Durovsik is a strong advocate of the arts and an involved community leader. She has been an Associates Board Member at the Philadelphia Museum of Art and a founder of the museum's largest family program, dedicated to introducing children and families to our nation's cultural endowment. Ms. Durovsik attended the Barnes Foundation art study program and is a member of the National Advisory Council of the Tang Teaching Museum at Skidmore College. Ms. Durovsik is currently pursuing a Master's Degree in nonprofit leadership at University of Pennsylvania's School of Social Policy and Practice.
Ms. Durovsik and her husband Tom, an entrepreneur and currently Chief Executive Officer of FreedomPay, Inc., have three children; Taylor, Paige and John; and reside in Villanova, Pennsylvania.