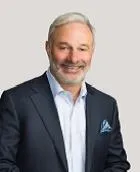 Andrew Sandler
CEO, Temerity Capital Partners
Andy Sandler is an entrepreneur, business leader, and lawyer. He leads Temerity Capital Partners, the Sandler family office and private investment company, which invests in and advises early-stage companies developing new technologies in financial services.
Andy is CEO and founder of Asurity, a software firm focused on providing automated compliance management solutions for the mortgage and banking industries.  He is Senior Partner at Mitchell Sandler, a law firm focused on the financial services industry and Fintech.  Andy also founded and led both Buckley Sandler, a premier financial services law firm, and Treliant, one of the nation's preeminent privately owned and operated financial services industry consulting firms.  He owns the Kannapolis Cannon Ballers, a minor league baseball team in North Carolina.
For the past 30 years, Andy has been a trusted strategic and legal advisor and counsel to the financial services industry.  Chambers USA has recognized Andy as "one of the leading stars of the financial services regulatory firmament." Legal Times named him as a "Legal Visionary" for his role in founding and leading Buckley Sandler and as "Deal Maker of the Year" for his regulatory advice in navigating complex transactions. Andy was named a Public Justice Trial Lawyer of the Year finalist for his representation of the Navajo Nation in its breach of trust litigation with the United States where Andy and his colleagues achieved a $554 million settlement for the Nation in 2014.
Andy founded The Sandler Family Foundation which focuses on social entrepreneurship and financial inclusion with his three adult children, Karna, Michael and Jake.  He is Vice Chair of the National Board of Directors of the Cancer Support Community, a global non-profit organization delivering psycho-social support to cancer patients and caregivers.
Andy holds J.D. and M.B.A. degrees from the University of Pennsylvania Law School and Wharton School of Business; an M.A. from the University of Warwick (U.K., Rotary Foundation Fellow), and a BA from Union College. He is a fellow in the American College of Consumer Financial Services Lawyers. His leadership roles at the American Bar Association Litigation and Business Law Sections have included Chair of the Consumer and Civil Rights Committee and Vice Chair of the Banking Law Committee.  Sandler is a member of The Council on the Responsible Use of Artificial Intelligence.  He is also a member of the Center for American Progress's Economic Advisory Council.