Head and Neck Cancer Awareness Month: Let's Talk Risk Factors, Nutrition, and Support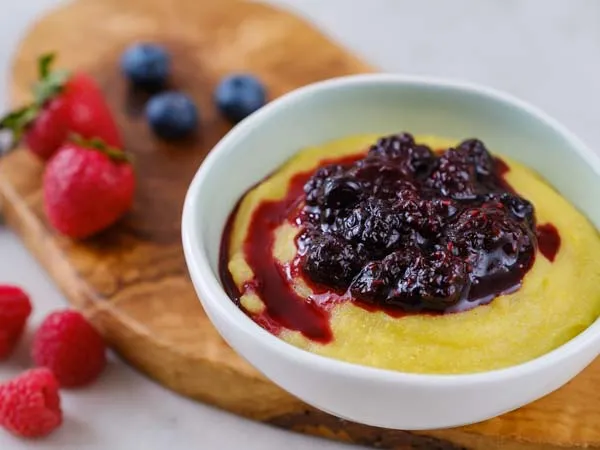 Eating healthy can help with side effects during head and neck cancer treatment. Find nutritious recipes like our Polenta With Fruit Compote in our Virtual Kitchen. Quickly search for recipes by meal type or a specific eating challenge.
About 4% of all cancers in the United States are head and neck cancers. It's estimated that 66,470 people will develop head and neck cancer this year, according to the American Society of Clinical Oncology's patient information website Cancer.net. In recognition of Head and Neck Cancer Awareness Month, we'd like to highlight some key information about the disease, including free educational and support resources to help cancer patients and their caregivers navigate a diagnosis.
Head and neck cancers include cancers in the following areas:
Hypopharynx (hypopharyngeal cancer)
Larynx (laryngeal cancer)
Nasal cavity (including nasopharyngeal cancer)
Oral cavity (including lip cancer and tongue cancer)
Pharynx (pharyngeal cancer)
Salivary glands
Sinuses (paranasal sinus cancer)
Risk Factors for Head and Neck Cancer
Risk factors for head and neck cancers may vary based on the specific diagnosis. Risk factors found across all types include:
Heavy alcohol consumption
Tobacco use (cigarettes, pipes, chewing tobacco, and cigars)
Being over age 45 
Less common risk factors include:
The human papillomavirus (HPV), which is related to cancers occurring in the tonsils and the base of the tongue in the oropharynx (HPV can also cause cervical cancer).
The Epstein-Barr Virus, which is linked to an increased risk of nasopharyngeal cancer.
Eating Well With Head and Neck Cancer
A healthy diet is an important part of a head and neck cancer patient's journey before, during, and after treatment. Eating healthy can help prevent weight loss, lack of appetite, and other side effects associated with head and neck cancer treatment. It can also help you feel better and respond better to your cancer treatment. Find helpful tips and resources about eating well with head and neck cancer during your cancer journey.
"By talking with a nutritionist, I learned that staying well hydrated, consuming a certain number of calories daily, and overall good nutrition was the key to successfully battling cancer, as well as the key to a more rapid recovery. Outside of maintaining a positive attitude, proper nutrition was key to my overall success."

— Jason, oral cancer survivor
Head and Neck Cancer Resources & Support
If you are living with head and neck cancer or are a caregiver to someone with head and neck cancer, we offer a variety of resources to help ease the burden of your journey:
"I determined that the flick of a mental switch to the positive position could add years to my life and life to my years, and I turned it on!"

— Terry, laryngeal cancer survivor