5 Ways to Support Cancer Survivors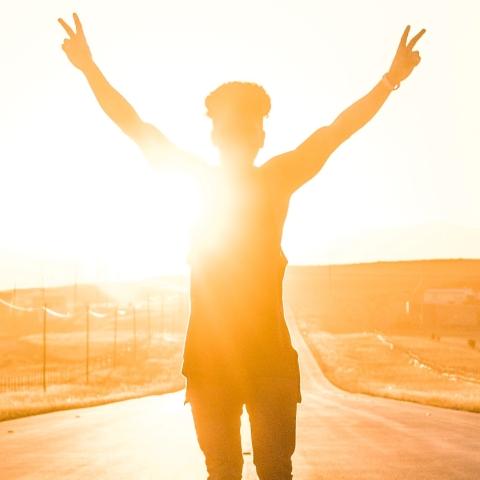 Did you know that survivorship begins the moment someone is diagnosed with cancer? June is National Cancer Survivor Month, a campaign that celebrates everyone who has fought cancer or is navigating a cancer diagnosis. It's also a good time to raise awareness about the challenges of survivorship throughout all stages of the cancer journey. The challenges of a cancer diagnosis don't end when treatment ends. Throughout the cancer journey, survivors can face challenges ranging from financial concerns to fears of a recurrence.
Fortunately, there are ways to show your support. At the Cancer Support Community, we believe that community is stronger than cancer. Whether you have personally been affected by cancer or simply want to help others on their survivorship journeys, your support can make a positive difference.
Here are 5 ways you can take action and help improve life for people impacted by cancer.
1. Become an advocate.
Cancer advocates work to educate the community and politicians on important cancer issues. Anyone can be a cancer advocate and help change laws and policies that affect people impacted by cancer. Many people think advocacy is intimidating or that it can only be done through lobbying, but that is not the case. You can be an advocate in many ways.
Some examples of advocacy include:
Contacting legislators to voice support or opposition for the issue
Educating friends and family on issues
Voting
Participating in a health-related activity in your community
Sharing your story on social media
Attending a local town hall meeting
Staying informed and aware of issues that are important to you
The Cancer Policy Institute at CSC works toward a future where the nearly 17 million cancer survivors in the United States have access to high-quality and affordable medical, social, and emotional care. Our Grassroots Network is a place where you make your voice heard to policymakers at the local and national level. By joining our Grassroots Network, you will also stay up-to-date and learn more about key issues that are important to cancer patients and their loved ones.
Sign up to become a cancer advocate
2. Participate in cancer research.
If you have been impacted by cancer as a patient or a caregiver, consider participating in CSC's research. Our Research and Training Institute (RTI) is dedicated to research that focuses on the social and emotional impact of cancer on individuals, families, and communities. The RTI conducts research through many methods, including:
Surveys
Focus groups
Interviews
These research methods are designed to help us better understand the patient and caregiver experience. We use the findings from our research to inform policies, develop educational programs, and provide vital support for all people impacted by cancer. Your participation can help CSC position the voices of patients and caregivers at the center of the conversation about cancer.
To have your voice heard, explore our research opportunities and participate today.
3. Connect with others like you. 
Cancer survivors and caregivers can be a powerful source of support for one another. If you or someone you love has been touched by cancer, join our discussion boards to connect with others like you. These discussion boards are available on MyLifeLine.org, CSC's private online platform for cancer patients and caregivers. MyLifeLine offers a safe place where people can make vital social connections necessary for daily practical support and emotional healing.
Each discussion board addresses a specific interest or concern, from coping with side effects to providing caregiver support. Join any number of boards that are helpful to you. Share your ideas and stories and find hope and inspiration from others who are going through similar experiences.
There are 14 boards to choose from:  
Advanced Non-Melanoma Skin Cancer
Cancer in Your 20s-30s
Caregiver Support
CAR T Cell Therapy & Immunotherapy
Coping with Side Effects
Grief & Loss
Living with AML
Living with Breast Cancer
Living with Lung Cancer
Managing Multiple Myeloma
Nutrition & Wellness
Parenting with Cancer
Post-treatment Survivors
Young Adult Survivors of Pediatric Cancer
"It's been a long journey after surgery, radiation, and chemotherapy. I found love. I found compassion. I found strength. I reinforced my passions. I valued life more than ever. I found that staying active and positive are the most important things to fight through this battle. I made myself accountable to get up every day and to work hard. I felt terrible but I made myself physically work and to keep learning."

— Cancer survivor & MyLifeLine member
4. Participate in Community Gives Day.
The Cancer Support Community is hosting its first-ever Community Gives Day on Monday, June 28. It's a great opportunity to show your support for cancer survivors. This 24-hour initiative will help provide free support and services to people impacted by cancer. These services and support programs include emotional, nutritional, and healthy lifestyle guidance; education; navigation; digital resources; and more.
Find out how you can participate
5. Share your survivorship story.
Are you a cancer survivor? By sharing your story — be it a personal mantra or other words of encouragement — you can help other people feel less alone as they navigate their cancer diagnosis. Please tell us about your survivorship journey in a short video message, a photo, or text. Help show other survivors that community is stronger than cancer.
* * * 
Be sure to check our blog section often as we share more news, stories, and inspiration to help support people impacted by cancer.