4 Tips to Maintain the "Happy" in Your Holidays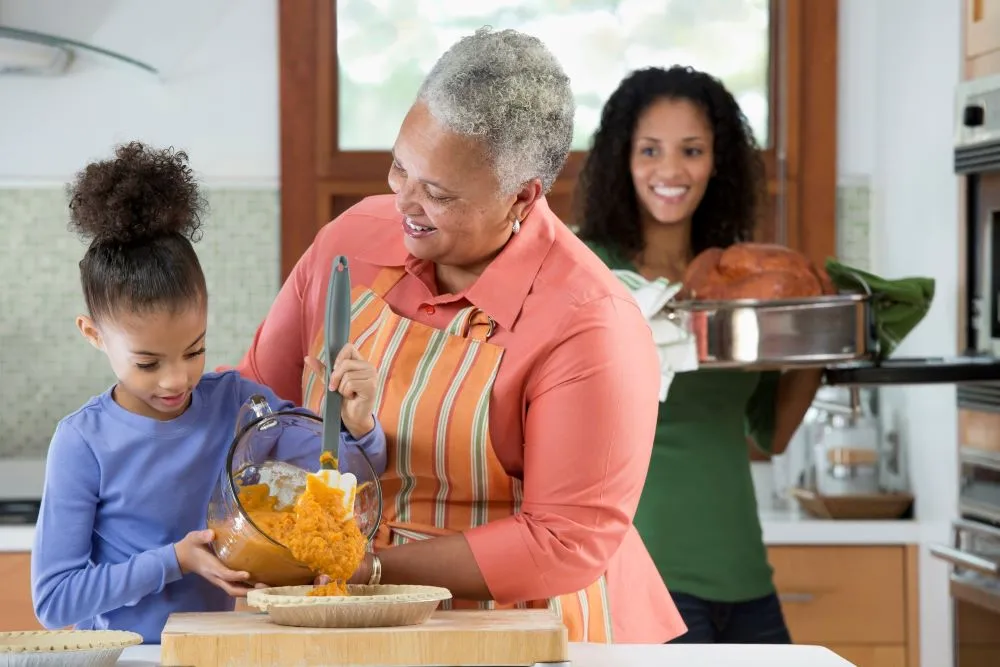 The holiday season means good food, social interaction, nostalgic joy, and — yes — even stress for many of us. Whether your traditions include large meals with extended family or cozy celebrations of the season, holidays are a cultural, intimate, and defining portion of every person's experience. Those facing the holidays after a cancer diagnosis may notice many things that aren't the same. Whether you are living with cancer or are supporting a loved one with cancer, thrive this holiday season with these 4 tips.
1. Reframe your expectations and adapt traditions. 
You make the holiday turkey every year. No one can do it like you. But it is a 12-hour, 27-step process for a 12-lb. bird! Depending on your cancer diagnosis and treatment plan, this feat is likely more difficult on your body now, but the thought of breaking tradition attacks your very core.
Reframe: Just because you may not be able to do it solo this year does not mean the end to a tradition. In fact, it could open the door to a new one. Adapt your famous turkey by inviting active participation from children, grandchildren, and siblings so that everyone has a role in preparing the meal this year. Expectations are met and enjoyed even more when the love of each person goes into the preparation work. Another benefit? Your newly elevated tradition continues through the engagement of the whole family. In the process, the stress and feelings of perceived inadequacy melt away as you receive the help you need.
2. Be aware of your dietary restrictions and needs. 
You may notice some foods don't taste the same or have become unappealing because of treatment. You also may experience treatment-related cravings just as often as you experience side effects like nausea. In addition, your treatment process may include dietary restrictions. For treatments like chemotherapy and radiation, your healthcare team may recommend avoiding many foods that find their way into our holiday meals. These foods can include:
raw nuts
fresh salsas and dressings
spicy or acidic foods
alcohol
This means that, this year, you may not be able to have any of your aunt's famous eggnog. Or you may be completely repulsed by the holiday ham you've loved since you were a kid, but you crave a plain hot dog and some mac and cheese. Eat the things your body is attracted to while being aware of foods to avoid. And always remember that moderation is key. Allow yourself foods you like or crave and align them with your dietary needs. You can also share those foods with loved ones to help dispel any stigma you think you may incur by eating something different.
An oncology dietitian is an excellent resource for questions or clarification about certain foods and ensuring healthy nutrition during and after cancer treatment. Watch our Facebook Live event with Savor Health to learn about their on-demand oncology dietitian service.
3. Pace yourself throughout the holiday and delegate.
The kids want to play outside, the dishes need to be done, and your sibling is trying to pitch that start-up idea again. There's a lot to do around each facet of the holidays and you stay active and on top of everything, catering to the needs of others before yourself. Living with cancer and undergoing treatment can exponentially increase the fatigue we experience during the holidays. Keep up at your own pace — the meaningful moments will still happen, even if not everything on your list gets done. Take time to remove yourself from high-activity areas, rest, and do what you need to do to recharge.
Visit Our Mind Body Studio to Relax and Unwind
Avoid burning out by enlisting the help of loved ones. Many of your loved ones may likely already have asked what they can do to help (a question we never know the answer to at first). Today is the day; you know exactly what they can do. Leverage the support of those around you to reduce your stress and allow yourself some time to experience the same joy during the holidays. Asking for help doesn't have to be about your cancer treatment. Aspire to include loved ones in every step of holiday planning and celebration. Your relationships will strengthen by coming together.
4. Acknowledge your emotions and express them to those you trust.
The holidays, while joy inducing, can incite a wide array of feelings that may or may not be directly related to your experience with cancer. Respect those feelings, feel those feelings, and confide in trusted loved ones. A subtle bridge built between you and one or more loved ones emphasizes that you are not facing this alone. Someone has your back. Allow trusted insiders to take some tasks off your plate. They may do that before you even share your needs and feelings.
It is okay to accept help even if you didn't ask for it. Support is a major reason for the season. So, allow your loved ones to assist you, and trust in their ability to handle frank and honest conversations about your needs and feelings. Finally, know that your emotions and mental health are important during the holidays and always.