Cancer Support Community Has First-Time Wins and Continued Success at the Digital Health Awards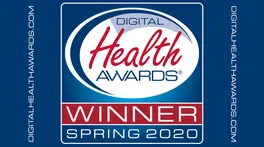 Cancer Support Community (CSC) earned 10 Digital Health Awards last Friday at the spring 2020 event organized by the Health Information Resource Center (HIRC)-- two of the awards were first-time wins for us. 
Our Caregiver Blog Series, a 12-part series written by author and longtime caregiver Nancy Sharp, received an award for the first time. This blog gives an honest look into the world of caring for someone with cancer. Our MyLifeLine online discussion boards also won for the very first time. Moderated by licensed mental health professionals 24/7, the discussion boards are a safe place for cancer patients, caregivers, and friends to share ideas, inspiration, challenges, and hope.  
In total, we received awards in the social media, digital publication, digital forum, and video categories.  
Other notable wins include, our Twitter account, @CancerSupportCommunityHQ, which received gold recognition as a social media platform and our Eating Well with Head and Neck Cancer Recipe: Colorful Lentil Soup and Avocado Macaroni and Cheese.
All 10 Digital Health Awards highlight the broad range of resources we offer online to patients and caregivers. 
 To find out more about our winning resources, see our award list and links below.  
Education 
Gold (Digital Health Media Publications) 
Silver (Digital Health Media / Publications: Book)  
Bronze (Digital Health Media / Publications: Other / Miscellaneous Digital Health Media / Publication)  
Bronze (Digital Health Media / Publications: Other / Miscellaneous Digital Health Media/Publication)  
Bronze (Digital Health Media / Publications: Other / Miscellaneous Digital Health Media/Publication) 
Bronze (Digital Health Media / Publications: Other / Miscellaneous Digital Health Media/Publication)  
Bronze (Web-based Digital Health: Forum / Message Board) 
Digital Media 
Gold (Digital Health - Social Media: Twitter) 
Bronze (Digital Health Media / Publications: Video) 
Merit (Digital Health Media / Publications: Video)