Thank You to Oncology Social Workers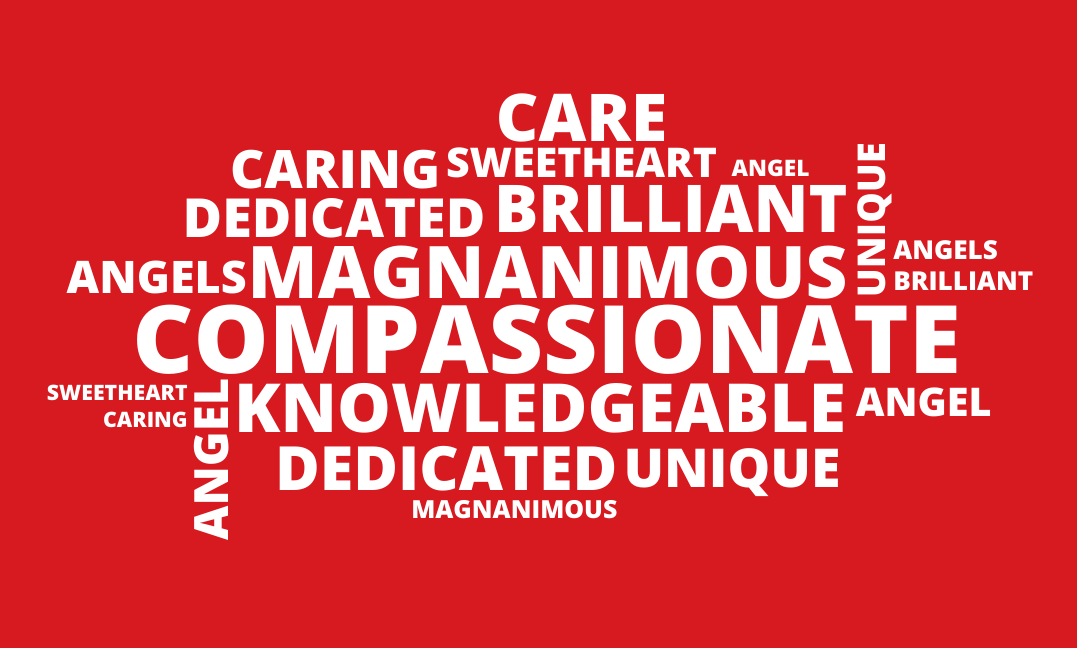 If the title of our blog hasn't already given it away, we are grateful to oncology social workers for the work they do ― for many reasons. Let's start with some adjectives that characterize these special people. Recently, when we asked our community to describe their oncology social worker in one word, adjectives like "compassionate" and "dedicated" popped up more than once.
The descriptive words pictured here are not surprising. They reveal the caring nature of oncology social workers, who are trained in helping cancer patients and their families cope with a cancer diagnosis. Here at the Cancer Support Community, that's a big deal, because we believe that no one should have to go through cancer alone. So, as we recognize National Social Work Month this March, we'd like to say thank you to the many social workers on our staff and to oncology social workers everywhere for the passion, knowledge, and energy they bring to their work each day.
"My social worker was my ROCK and the anchor that kept me above water more than once or twice following my cancer diagnosis."

― Marcia, cancer survivor
Oncology social workers can help people navigate a cancer diagnosis in many ways. For some examples, we turn to Terri and Karen, who work on our Cancer Support Helpline. Our Helpline provides free navigation for cancer patients and their loved ones by phone and online. Our navigators include resource specialists and licensed social workers like Terri and Karen, who each have several years of experience in the oncology treatment setting.
Could you briefly describe your role at CSC?
Terri: I am a Helpline navigator. Within my role I provide guidance, local and national resources, and support to cancer patients or their loved ones with a variety of needs. My role allows me to meet individuals where they are within their cancer experience, validate and help normalize what they are going through, and help them identify resources, services, and programming that may help make their experience a little easier.
Karen: I am the Senior Director of Helpline Navigation for CSC. I work alongside Terri providing patients and caregivers with personalized navigation. I also provide the Helpline with clinical, operational, and administrative leadership.
"The simple act of acknowledging there are many things to accomplish ― but that not everything can or will be solved immediately ― can be so helpful."

  ― Terri, Helpline navigator
When facing a cancer diagnosis, there are many different things to think about and manage, from treatment decisions to cost of care. What are a few common ways you have helped people navigate the complexities of a diagnosis? 
Terri: When I speak to callers, they are often overwhelmed by managing everything that comes with a cancer diagnosis in concert with everything that continues to come with life. One of the most helpful interventions I can provide is to assist callers identifying those things that are a priority and help them generate a plan on how to take steps forward — one step at a time. The simple act of acknowledging there are many things to accomplish ― but that not everything can or will be solved immediately ― can be so helpful. 
Karen: In addition to working with patients and caregivers around these concerns, I work with our leadership and the Helpline to create pathways and practice standards so that we are sure to offer the right resources and support at the right time. I also lead our team in the development of our metrics so we can best understand the barriers our callers face. Our metrics also help us understand the interventions and resources we should employ to make a positive difference in the lives of our callers.
A cancer diagnosis can bring on a rollercoaster of emotions. How have you and other Helpline navigators helped patients and their loved ones cope?
Terri: A lot of times just normalizing this rollercoaster can be most helpful. Many callers I talk to feel like they have "lost their marbles" and forget that they have had a lifetime of coping and meeting challenges. They have the skills and the tools; they just have never had cancer before. Oftentimes, I help callers identify coping strategies they have employed in the past when meeting difficulties and remind them they have the skill set and ability to manage the difficulties presented with cancer. 
I also discuss different modalities of support, whether it be a support group, a peer match program, connecting to our community network partner (if available), or individual therapy that they may also wish to layer into their existing tool kit. I also remind them to connect to their medical team to explore what interventions, referrals, or support programming they may have.
Karen: On the Helpline, our navigators begin a call by asking the caller to participate in a distress screening questionnaire. In just a few minutes, we ask key questions to best understand callers' concerns and fully assess the situation. Then, we provide linking to resources, education, and support.
For someone impacted by cancer who is interested in connecting with an oncology social worker, but is not sure how to do so, what is a good first step for them to take?
Terri: I typically recommend patients let their oncologist know what needs they have. Whether it be financial, psychosocial, or medical, I remind them that their oncologist wants to treat the whole person, not just the physical symptoms of their diagnosis and treatment. This can be a great way to get connected to the oncology social worker or navigator on site at their treatment center.
Karen: On the Helpline we provide some direction, especially when someone is newly diagnosed, on who their healthcare team members are and their roles. This allows us to highlight the importance of the oncology social worker. Whenever possible, we can also link the caller to contact information for their treatment center to learn more.