White Fish Tacos with Strawberry Mango Salsa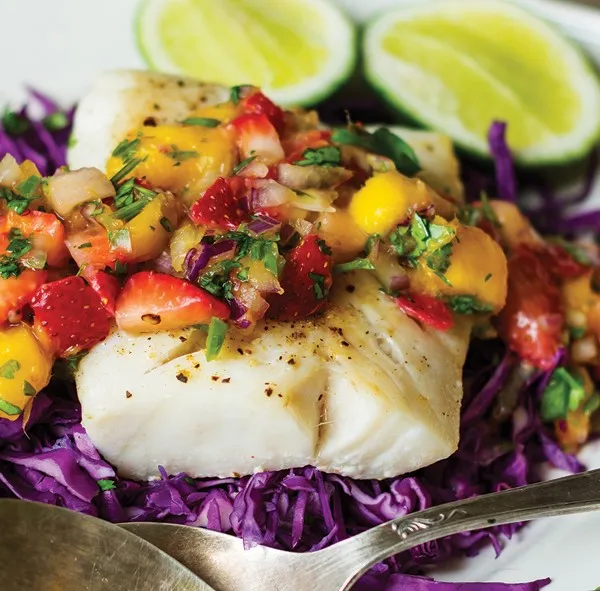 These fish tacos make a fresh and delicious lunch or dinner. They are nutritionally balanced because they are high in protein, fiber, and antioxidants. The tacos are also adaptable because you can use any fish or meat that you prefer and make the salsa out of ripe fruits you may have on hand. Serve with an avocado tomato salad for a summer-inspired complete meal.
Recipe
Ingredients
¼ cup orange juice
1 Tbsp honey
1 tsp cumin
1 tsp paprika
½ tsp salt
¼ tsp pepper
1 lb. cod or other white fish
1 Tbsp olive oil
½ cup strawberries, diced
1 mango, diced
½ jalapeno (optional)
¼ cup cilantro, chopped
¼ cup red cabbage, chopped
1 lime, juiced
8 corn tortillas
Directions
Combine orange juice, honey, cumin, paprika, salt, and pepper in a large container. Add fish and marinate for 10 minutes.
Heat olive oil in large skillet. Add fish and cook for 4-5 minutes on each side, brushing marinade onto the fish as it cooks.
While the fish is marinating, make the fruit salsa. Combine strawberries, mango, optional jalapeno, cilantro, cabbage, and lime juice. Store in the refrigerator until ready to use.
Once fish is cooked, heat corn tortillas in microwave for 15 seconds, wrapped in a paper towel or clean dish towel.
When you are ready to eat, make your taco. Add fish to the corn tortilla and top with fruit salsa.
Nutritional data
Per serving: 310 calories, 6 grams fat, 1 grams saturated fat, 50 mg cholesterol, 380 mg sodium, 43 grams carbohydrate, 5 grams dietary fiber, 24 grams protein
Discover More Recipes