Swiss and Spinach Strata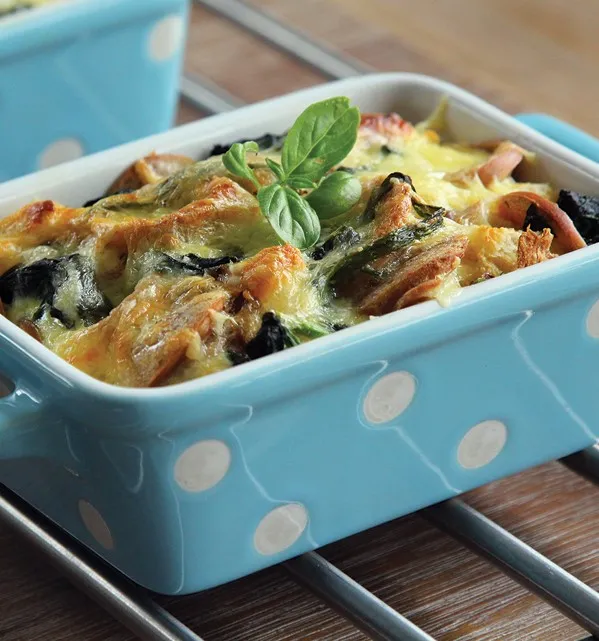 This breakfast is perfect for a weekend morning and can also feed a crowd for brunch. It is high in protein and a good source of fiber, which can help keep you feeling full until lunch. It is also adaptable because you can substitute any vegetable or cheese you may have on hand. Enjoy with a side of fruit and a cup of your favorite herbal tea for a delightful and filling breakfast.
Recipe
Ingredients
1 Tbsp olive oil
1 onion, diced
1 garlic clove, minced
10 oz frozen spinach, thawed and drained
8 slices whole wheat crusty bread, cubed
2 ½ cups milk
1 tsp salt
½ tsp black pepper
9 eggs
¾ cup grated Swiss cheese
Directions
The day before serving:
Grease a ceramic dish with non-stick spray.
Heat olive oil in skillet over medium heat.
Add onion and cook for 5 minutes, until translucent. Add garlic and sauté for 1 minute. Add spinach and cook for 2-3 minutes. Set aside.
In ceramic baking dish, add bread cubes and spinach. Mix until combined.
In a separate bowl, combine milk, salt, pepper, eggs, and cheese. Pour egg mixture over bread and spinach.
Cover and place in the refrigerator overnight.
The next morning:
Preheat the oven to 375 degrees F. Remove strata from refrigerator while oven is preheating.
Uncover and bake in oven for 45-50 minutes, until top is slightly browned.
Nutritional data
Per serving: 320 calories,13 grams fat, 5 grams saturated fat, 225 mg cholesterol, 680 mg sodium, 32 grams carbohydrate, 1 gram dietary fiber, 19 grams protein
Discover More Recipes