Shrimp Bento Bowl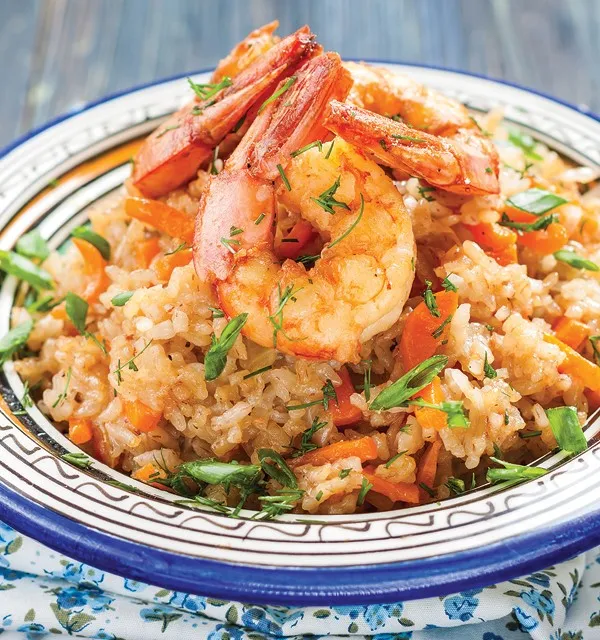 These shrimp bento bowls have delightful flavor and are quick and easy to put together. The brown rice and vegetables provide healthful fiber and the shrimp is an excellent source of protein. These bento bowls are also adaptable because you can use chicken in place of shrimp and any vegetables you may have on hand. Save time and make a pot of brown rice ahead of time to quickly assemble the bowl when you are ready to eat.
Recipe
Ingredients
¼ cup low sodium soy sauce*
1 Tbsp rice vinegar
1 inch fresh ginger, grated
1 Tbsp honey
1 lb small cooked shrimp, peeled and tails removed
2 cups cooked brown rice
1 cup diced cucumber
1 avocado, diced
1 cup carrot, cut into matchsticks
Sriracha sauce (optional)
* May reduce soy sauce or replace with liquid aminos or homemade soy sauce as needed for less sodium content
Directions
To make dressing, mix soy sauce, vinegar, ginger, and honey together in a small bowl.
To assemble your bento bowl, place brown rice in a bowl and top with vegetables and shrimp.
Toss with dressing and top with optional sriracha sauce.
Nutritional data
Per serving: 330 calories, 10 grams fat, 1.5 grams saturated fat, 145 mg cholesterol, 1170 mg sodium, 42 grams carbohydrate, 6 grams dietary fiber, 21 grams protein
Discover More Recipes