Mixed Berry and Yogurt Crepes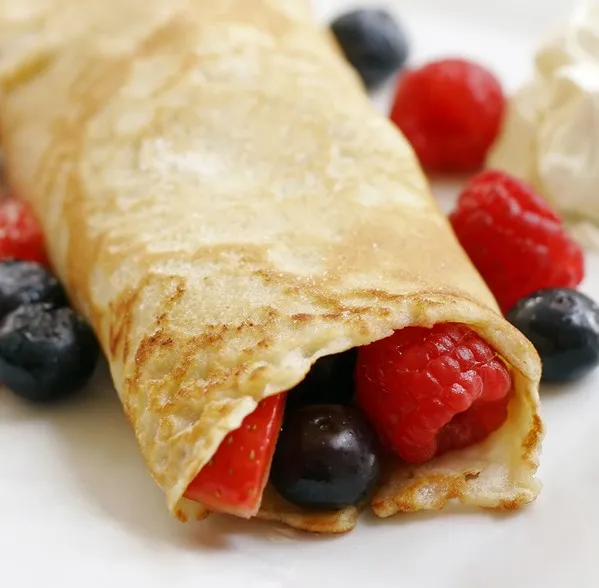 This is an easy and delicious breakfast recipe that is sure to please. The crepes are made with whole wheat flour for added fiber and yogurt as a good source of protein. If you have never made crepes from scratch, be patient. Your first crepe or two may not turn out the way you like, but it will get easier. You can also substitute store bought crepes to save time. Any seasonal fresh fruit can be used instead of berries in the crepes.
Recipe
Ingredients
3 eggs
1 cup milk
¼ cup water
½ cup all-purpose flour
½ cup whole wheat flour
¼ tsp salt
2 Tbsp canola oil
2 Tbsp pure maple syrup
2 cups frozen mixed berries, thawed
1 cup vanilla yogurt
1 tsp cinnamon
Directions
Whisk together eggs, milk, and water. Add both flours and mix together gently.
Add salt, oil, and maple syrup. Mix to combine.
Let batter rest for 30 minutes.
After rest time, lightly grease skillet and heat over low heat. Add ¼ cup of batter into pan. Swirl it around to get batter to spread over the skillet.
Cook for 30 seconds to 1 minute and flip crepe to the other side. To do this, loosen crepe with a spatula and quickly flip.
Cook on the other side for an additional 30 seconds.
Repeat with remaining batter.
To serve, add a dollop of vanilla yogurt and fruit inside each crepe. Sprinkle lightly with cinnamon and roll crepe like a burrito to serve.
Nutritional data
Per serving: 250 calories, 9 grams fat, 2.5 grams saturated fat, 100 mg cholesterol, 170 mg sodium, 31 grams carbohydrate, 3 grams dietary fiber, 11 grams protein
Discover More Recipes