Homemade Nutella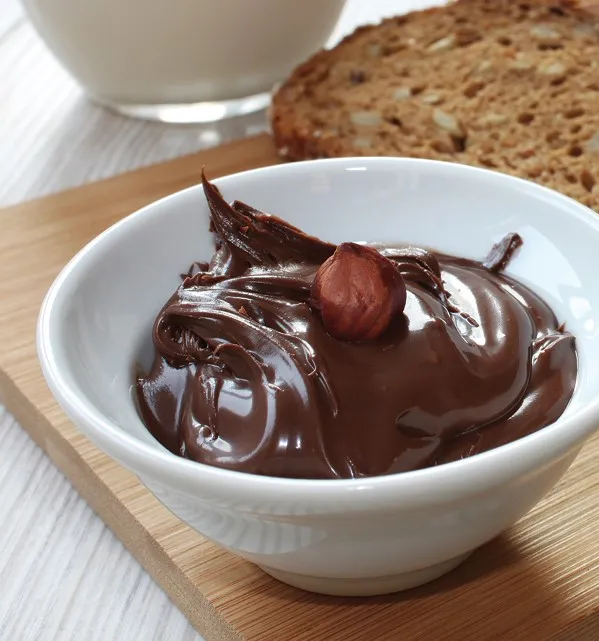 This chocolate hazelnut spread is a delicious and simple dessert or snack. Hazelnuts are a good source of healthy fats, fiber, and protein. They make this recipe a satisfying snack because the protein and fiber help keep you feeling full. Dark chocolate has been shown to contain antioxidant compounds, which can act to help reduce the risk of cancer. Look for at least 65% cacao when choosing dark chocolate to get the healthiest results.
Recipe
Ingredients
2 cups raw hazelnuts
1/2 cup dark chocolate chips
1/4 to 1/2 tsp sea salt, depending on taste preference
1/2 tsp almond extract
Directions
Preheat oven to 350 degrees F.
Spread raw hazelnuts on a baking sheet and roast for 12 minutes.
Once slightly cooled, rub roasted hazelnuts in a clean dish towel to loosen the skins (some skin on the hazelnuts is okay).
While hazelnuts are roasting, melt dark chocolate in microwave in 30 second time increments, stirring after each increment.
Blend hazelnuts in high powdered blender or food processor until it forms a nut butter, about 8 minutes.
Add melted chocolate, almond extract, and salt. Process until smooth.
Serve with whole grain toast, fruit, or spooned on top of yogurt or ice cream.
Nutritional data
Per serving: 350 calories, 30 grams fat, 6 grams saturated fat, 0 mg cholesterol, 3 mg sodium, 17 grams carbohydrate, 4 grams dietary fiber, 7 grams protein
Discover More Recipes