Fruit and Nut Bars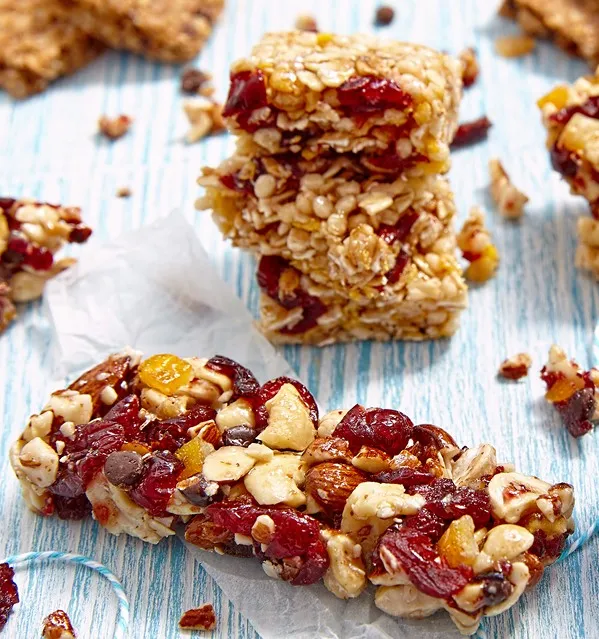 This easy on-the-go treat contains dried fruit, almonds, and cashews which are ideal for a mid-morning snack. This is because the almonds and cashews provide healthy fiber, healthy fats, and protein. You can also substitute in your favorite nuts, dried fruit, and nut butter to make them your own.
Recipe
Ingredients
1 cup chopped almonds
1/3 cup chopped cashews
1/4 cup dried cherries
1/4 cup dried apricots
1/2 cup unsweetened coconut flakes
2 Tbsp ground flaxseeds
2 Tbsp nut butter
1/4 cup honey
1 Tbsp coconut oil
Directions
Preheat oven to 325 degrees F. Line 8x8 dish with parchment paper.
Combine nuts, dried fruit, coconut, and flaxseeds in a medium-sized bowl.
In a microwave safe bowl, combine nut butter, coconut oil, and honey. Place in microwave to melt ingredients, 30 seconds to 1 minute. Add nut and seed mixture and stir together.
Place batter in prepared dish and spread out until smooth.
Bake in preheated oven for 15 minutes. Remove and let cool completely.
Cut into bars and store in refrigerator.
Nutritional data
Per serving: 170 calories, 10 grams fat, 2.5 grams saturated fat, 0 mg cholesterol, 20 mg sodium, 17 grams carbohydrate, 2 grams dietary fiber, 4 grams protein
Discover More Recipes