Don't Go It Alone: Find Support as an AYA With Cancer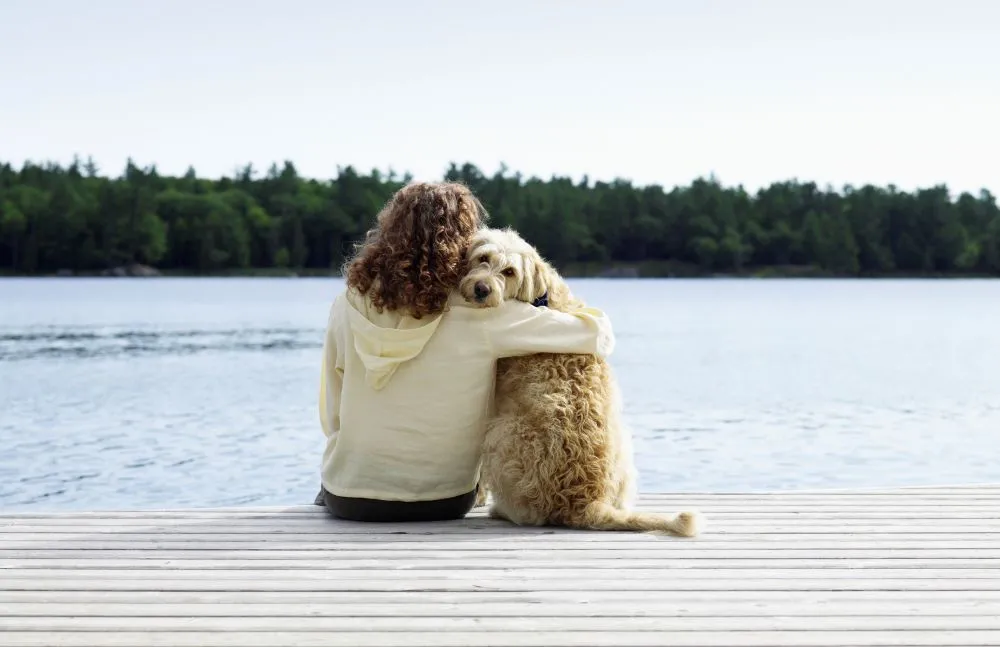 Adolescents and young adults with cancer, often referred to as AYAs, are defined as anyone between the ages of 15-39. An estimated 87,050 AYAs were expected to be diagnosed with cancer in the United States in 2022. That's about 5% of all cancer diagnoses in the United States, according to the National Cancer Institute.
Young people face unique challenges in their cancer experience. AYAs are navigating cancer at a pivotal time in their lives. They are often pursuing life paths and dreams, exploring education or career plans, or venturing out on their own. Milestones like attending college, beginning a career, starting a family, or becoming financially independent might need to be put on hold as they manage their diagnosis.
The needs of AYAs vary depending on cancer diagnosis, treatment, survivorship care plan, and other unique circumstances. As an AYA, having access to social and emotional support throughout your cancer experience is critical.
Here are some common challenges you may face:
Coping With Side Effects
People with cancer can experience side effects during their treatment and even after treatment ends. While everyone's experience is unique, AYAs may be more likely to experience long-term cognitive effects of chemotherapy and radiation compared to older adults. Cognitive effects can include changes to a person's memory or concentration.
Other long-term side effects may include:
Lymphedema (pain and swelling in the arms, legs, or trunk)
Discover Tips to Manage Side Effects
Coping With Emotions
AYAs can face a roller coaster of emotions while they are coping with a cancer diagnosis, and also when transitioning to survivorship. Emotions may include:
Worries about a recurrence
Coping With Life Changes
Living with cancer and transitioning to life post-treatment requires adjustment for people of all ages. For AYAs, it can be especially challenging to find a "new normal" when life may feel very different than it did before their cancer diagnosis.
AYAs may find it hard to navigate life changes such as:
Resuming life plans
Returning to work or school
Reconnecting or keeping up with peers
Dealing with the long-term financial impact of treatment
Discover Tips to Cope With Life Changes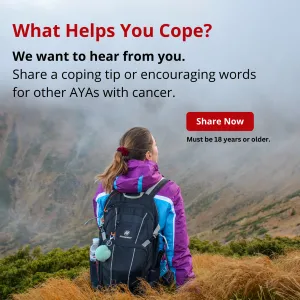 Support for AYAs
Support for AYAs is important, now more than ever. There are about 633,000 AYA cancer survivors in the United States, and that number will continue to grow as more young people are diagnosed with cancer in the years ahead. 
We are dedicated to being here for you every step of the way, no matter where you are in your cancer experience. We offer a variety of resources that may help:
Cancer Support Helpline: We offer free navigation for cancer patients and their loved ones through our toll-free Helpline at 888-793-9355 and via our live web chat service.
In-person support: We offer support groups, educational programs, and health and wellness programs at over 175 locations in the United States, in Canada, and worldwide, including 52 licensed affiliates and healthcare partnerships. Many locations offer support groups for teens and other AYAs. Find a caring and supportive location near you today.
AYAs can also join our free digital support community, MyLifeLine, for people impacted by cancer:
Create your own personal support network: Invite your family and friends to follow your journey and provide social, emotional, and practical support throughout your treatment process and beyond. You can also use the Helping Calendar to easily request and schedule help from your network for tasks like rides to appointments, meals, childcare, pet care, and more.
Create a Personal Support Network Now
Connect with others on our discussion forums: If you are 18 or older, you can join our discussion forums to meet others like you who have been impacted by cancer. The forums provide a safe space where you can share your experiences and learn about others' experiences to minimize isolation and find hope and inspiration. 
Our forums are moderated by licensed mental health professionals and are available 24/7. Forums include:
Cancer in Your 20s-30s
Post-treatment Survivors
Coping With Side Effects
Nutrition and Wellness
 Join the Discussion: Connect With Others Like You Now 
AYA Organizations 
A cancer diagnosis can be overwhelming at any age. Understandably, young adults face their own unique challenges while navigating cancer and survivorship. Specialized AYA support is available through the following organizations:
First Descents – Organizes life-changing outdoor adventures for young adults impacted by cancer and other serious health complications.
13thirty Cancer Connect – Helps teens and young adults with cancer build a new peer community of others who understand.
Stupid Cancer – Provides support and resources to empower everyone impacted by adolescent and young adult cancer.