Worried About Cancer Costs? We Offer Free Financial Navigation & Support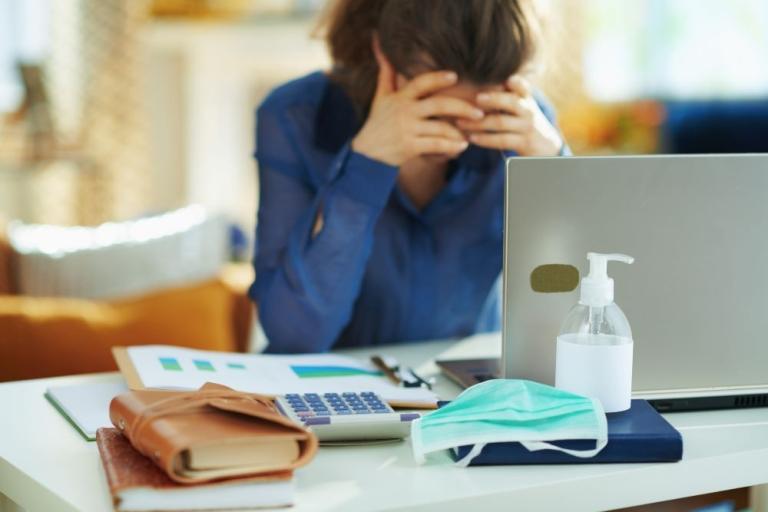 Editor's Note: This is part of our Spotlight on Mental Health series examining critical mental health concerns that affect cancer patients, survivors, caregivers, and providers. 
Cancer-related costs weigh heavy on patients and families. Our Financial Navigators can help.
Christina was catching some exercise on her stationary bike one morning when she received a text with the news she had been hoping for. A leukemia-focused nonprofit was notifying her that some funding had just opened in its co-pay assistance program. The program provides financial assistance for people living with leukemia.
Christina, a Financial Navigator for our Cancer Support Helpline, was thrilled. "The planets aligned that day," she says.
Part of Christina's role as a Financial Navigator is connecting callers with resources that may help with their cancer-related treatment expenses. Her hope was that the leukemia foundation's funding would help a man who needed a specific and expensive medication to treat his leukemia.
A few days earlier, the man's son had called the Helpline seeking guidance. "His dad, who lived several states away, had a Medicare Part D plan with a substantial co-pay," recalls Christina. "I think it was stressful for him, as a caregiver and a son, to be far away from his dad, not knowing if it was going to be okay." Christina immediately thought of the leukemia nonprofit and its co-pay assistance program. But that day the program had no available funding. From experience, Christina knew that funding might open any day — or it could take months. It is impossible to predict exactly when and for how long funds from any resource will be available. So, she waited. And she hoped.
Fast forward a few days later, to the moment Christina received the text that funding was now available. Wasting no time, she jumped on a call with the leukemia nonprofit to confirm the news. In these cases, she explains, "I provide basic eligibility screening to be sure that [patients] meet criteria for funding." Then she contacted the patient's son to tell him the good news and how to apply.
Within 2 hours, the man's father was approved for the funding and was able to get his medication. "I was so happy that day," Christina says.
Financial stressors like medical bills, health insurance, and household expenses are one of the top reasons callers reach out to our Helpline seeking support and guidance. For patients and their families, facing a cancer diagnosis can be overwhelming. Add cancer care costs to the experience, and it may feel like you are carrying the weight of the world on your shoulders.
Christina has observed, first-hand, the distress it can cause. She is a licensed clinical social worker and a board-certified oncology social worker who has been working with cancer patients and their families for more than 20 years. "Financial distress weighs on the psychosocial health of people," she says.
In our own research, 7 out of 10 participants in our Cancer Experience Registry survey reported that no one from their healthcare team spoke to them about the cost of their care. In addition, 1 out of 3 depleted their savings or used money from retirement to cover treatment costs, and 1 out of 10 postponed filling their prescriptions to reduce costs.
For many people, asking for help can be difficult, and not everyone feels comfortable talking about their financial concerns. As a Financial Navigator, Christina helps normalize these conversations. "I say to people, 'I understand that talking about money is not something we feel comfortable doing, but you took the first step by making this call. If at any time my questions feel uncomfortable for you, just let me know and we'll stop.'"
"My goal is to normalize talking about your financial health and distress in a cancer setting and to empower you to make changes to improve your situation."

— Christina, Financial Navigator, Cancer Support Helpline
Christina and Aimee, another Financial Navigator on the Helpline, frequently research potential new resources that may help support Helpline callers with their concerns about cancer costs, including national, state, and local resources. Christina helped one caller save $140 a month on his medication costs after finding the medication at a lower cost through a new specialty pharmacy backed by investor Mark Cuban (yes — that Mark Cuban, of the business-themed reality TV series "Shark Tank"). She helped another patient find her medication at a lower cost through the same pharmacy.
"These stories are really cool, and important," says Christina. "I feel like we are barely touching the tip of the iceberg with these calls."
Christina and Aimee can also offer tips on:
Communicating with healthcare providers about the cost of care and payment
Understanding insurance benefits
Navigating changes in insurance coverage or work circumstances, including loss of employment
"One of the things I love about our [Helpline] program is that we are an unbiased third party," Christina says. "We are not trying to get the hospitals paid. We are trying to get patients the resources they need to continue their care."
Have a question or concern about your cancer care costs, or something else about your cancer care?

The Helpline offers free navigation for patients and their loved ones by phone at 888-793-9355 and online via our live chat service. We also provide translation services in nearly 200 languages.