Tips to Talk About Cancer Costs
For many families facing cancer, financial worries about the costs of treatment are a significant source of stress, and they don't know where to turn. Asking for and accepting help can be hard.
Two important questions to ask about managing the cost of cancer care are:
What financial impact will my cancer diagnosis and cancer treatment have on my life?
Am I able to coordinate the financial piece of my cancer care right now?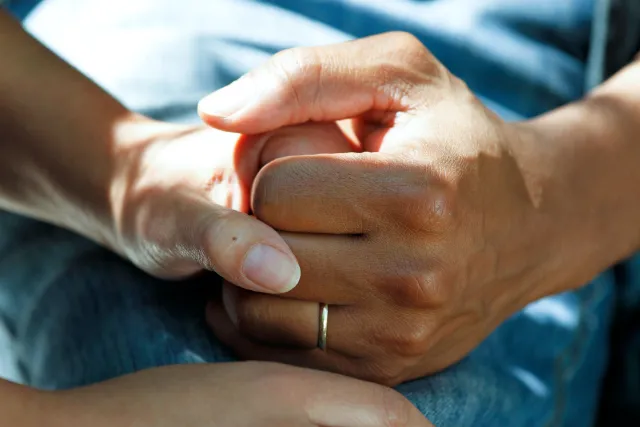 I think all of us, when we look at cancer...want closure so we can move on with our lives. The financial aspect can be the most difficult to resolve.
The first step in managing the cost of cancer treatment is to seek help.
Do you have a friend or family member who can help you? If not, ask your doctor to refer you to an oncology social worker, a financial counselor, or a nonprofit organization for help managing financial issues and cancer costs. Many people diagnosed with cancer ask someone else for help to keep up with the financial aspects of cancer care. The key is that someone must address these issues.
Our Helpline offers free navigation for cancer patients or their loved ones, including financial navigation regarding the costs of cancer care.
Our toll-free Cancer Support Helpline is for anyone affected by cancer. Our navigators are available and ready to assist you, whether you are looking for cancer resources and information or someone to talk to about the emotional and social worries that cancer can sometimes bring into our lives. 
Our Helpline offers:
Connections to local or national resources, including support groups, housing, transportation services, and other programs
Referrals to financial, clinical trials, genetics/genomics, and pediatric oncology resources
Advice on talking to children, family, and healthcare providers
Supportive counseling in over 200 languages
Gain a Sense of Control
Resources to Help You Navigate Common Questions & Concerns About Cost of Care
Patients Share How They Coped With Cancer Costs
Donita, a Chronic Myeloid Leukemia (CML) survivor, discusses the difficulties of dealing with the cost of oral drugs, especially when undergoing changes in health insurance coverage.
Donita, a Chronic Myeloid Leukemia (CML) survivor, shares advice on the how to cope with the cost of care.
Chronic Myeloid Leukemia (CML) patient, Diane, shares helpful tips for coping with the cost of treatment.
Chronic Myeloid Leukemia (CML) patient, Diane, shares helpful tips for finding co-pay assistance.
Barry, a caregiver, discusses the financial impact of cancer.
Carmen, a lung cancer survivor, discusses how she dealt with the the financial burden of cancer.
Webinars & eLearnings
Ways to prepare for out-of-pocket costs Planning for future costs Ideas for lowering costs Resources and information about financial aid ...
The most common medical-related costs for cancer care Practical questions to ask as you learn about cancer care costs Information about resources that can help ...
This video is a guide to understanding health insurance. It covers the types of health insurance, health insurance terms, questions, and resources for financial aid and advice.
Hear from guest speakers Sean Hebbel and Joanna Morales about health insurance coverage, patient assistance, and financial advising.
Hear from guest speakers Jen Sinclair and Joanna Morales speak about: Financial concerns Clinical trial expenses Financial assistance Legal expenses...
Hear from guest speakers Amanda Holt and Dawn Holcombe about their tips for reducing the cost of cancer care.
Hear from guest speakers Joanna Morales and Angie Santangelo about stress due to financial issues, tips to reduce stress, out-of-pocket costs, and unexpected costs.