The Financial Impact of a Cancer Diagnosis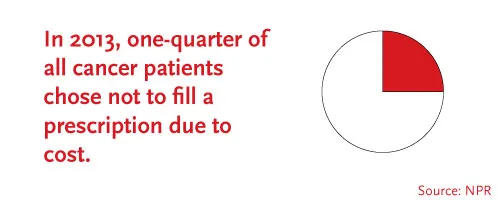 When Len Rodgers was diagnosed with multiple myeloma in 2003, many questions about his diagnosis raced through his head.
There was one worry that was especially high on his list, however: whether he could afford the medication to treat his cancer.
"When I had to pay $13,000 a month for an approved drug," Len says, "the out-of-pocket costs were astronomical."
Unfortunately, Len is not alone. Hundreds of thousands of Americans living with cancer struggle to get the treatment they need because of financial obstacles. One in eight cancer patients in the United States will reject treatment due to cost.
And even if people living with cancer do receive treatment, it often strikes them with financial burdens they cannot easily get rid of, as cancer patients are three times more likely to file for bankruptcy than those without cancer.
In the latest episode of Frankly Speaking About Cancer, host Kim Thiboldeaux spoke with Clorinda Walley, the Executive Director, and Randie Odebralski, the Chief Operating Officer, of Good Days, an organization that provides financial help to people living with chronic disease, cancer and other life-altering conditions.
"Cancer is one of the costliest medical conditions," Clorinda says. "Survival depends on being able to access and afford treatment."
The estimated cost of a cancer diagnosis depends on the diagnosis and treatment plan for each individual, but many people like Len often experience steep monthly costs for their medication.
"Newly approved cancer drugs cost on average about $10,000 per month," Randie says. "Some of these therapies top greater than $30,000 [each month]. Patients often pay approximately a third of those costs each year, and counting monthly premiums, this gets pretty expensive for them."
Clorinda claims these expenses force patients to make difficult choices for managing their health care costs.
"The reality is people are having to choose between feeding their family, having a car, having the ability to afford rent, and the most concerning piece for me, choosing not to take their medication," Clorinda says. "They have no desire to put their family in any type of stress so many of them take the [financial] burden upon themselves."
This is where Good Days steps in to help. The organization can alleviate many financial issues facing lower-income people living with cancer or other chronic diseases, such as assisting patients with co-payments for treatment, providing financial help to cover high monthly premiums, and reducing travel-related expenses for diagnosis-related treatments.
Some patients may hesitate to ask for financial assistance, however, due to the stigma associated with it. Clorinda states that there shouldn't be a stigma when asking for help because few people can predict whether they will experience a cancer diagnosis.
"The hardest thing to do is just pick up the phone (and ask for help)," Clorinda says, "and I assure you that once you do, you'll know that we're grateful for it. We're not giving you (financial support) that you don't deserve. We're helping you so you can continue to live the life you were given and be that support for your family."
For Len, receiving help from Good Days was critical when he was diagnosed with multiple myeloma. Now cancer free, he says that without financial assistance from Good Days, he would've faced an even more difficult cancer experience.
"It was a lifesaver," Len says. "There's really no other word for it. It was an absolute lifesaver."
For more information on Good Days, visit their website or call their toll-free patient information line at 877-968-7233, Monday through Friday from 9:00 a.m. – 6:00 p.m. EST.