When it's Time for a Second Opinion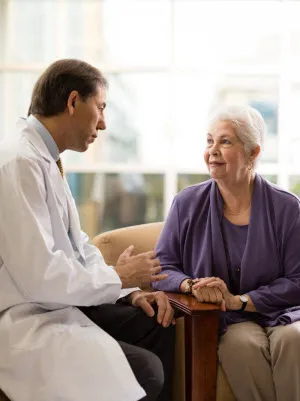 Hearing you have cancer can be shocking. And it's perfectly reasonable to want to take action and begin treatment right away. However, taking your time can have several advantages, including having the opportunity to evaluate options and seek other opinions.There are many reasons why a person facing cancer would choose to get a second, or third opinion, or to change doctors or treatment facilities. It is a very practical thing to consider for anyone facing a serious medical condition, but can often be a difficult decision. However, this is your experience and you do have choices. There are many different kinds of doctors, with a wide range of ability and expertise, and an equally wide range of communications skills. Seeking their opinions can be helpful, and does not mean you do not value your own physician's opinion.
Meg Gaines, founder of The Center for Patient Partnerships and ovarian cancer survivor, was told her cancer was inoperable. However, she persisted and found a surgeon willing to do an experimental procedure. That was more than 20 years ago and was the inspiration for an advocacy program which pairs graduate students with people trying to navigate the health care system. As part of being a good self-advocate she urges them not to be deterred by concern about hurting the doctor's feelings or compromising their care by getting a second opinion.
"I've been doing advocacy work for 20 years. I can't believe we are essentially in the same place now that we were 15-20 years ago regarding second opinions. I still have 4 or 5 people a day walk into our office and say, 'I want a second opinion, but I'm afraid to ask my doctor. Patients should feel that getting a second opinion is the norm. They should feel their physicians are inviting them to get that second opinion'," says Meg. "If I had my way," she says, "every doctor would have a sign in the office that says 'Ask me about getting a second opinion'."
For many people, getting another opinion is the best means of assuring that they are receiving state-of-the-art care.
"My husband was diagnosed with metastatic melanoma in our local community hospital. He had a number of other health problems as well that made his case really complicated. We loved our doctors, but we also knew we had to get an opinion from the experts at a major cancer center," says Colleen, a caregiver.
Meg also stresses that people facing cancer do have the time to get another opinion before beginning treatment. "It's natural when someone tells you that you have cancer to think you have to begin treatment right away, but in almost every case you can and should take those days or weeks to understand your treatment options and find a doctor that can provide the level of care you need. You really should not allow yourself to be rushed into starting a course of treatment."
For more tips on seeking second opinions and making informed treatment decisions, check out CSC's Open to Options program.This treatment decision counseling program is available over the phone by calling our Cancer Support Helpline at 1-888-703-9355 or in person at one of our Affiliate locations.
We want to hear from you! Did you seek a second opinion after your cancer diagnosis? Share your story with us by commenting on our Facebook or tweeting us at @Cancersupportcm.