Quinoa Tabbouleh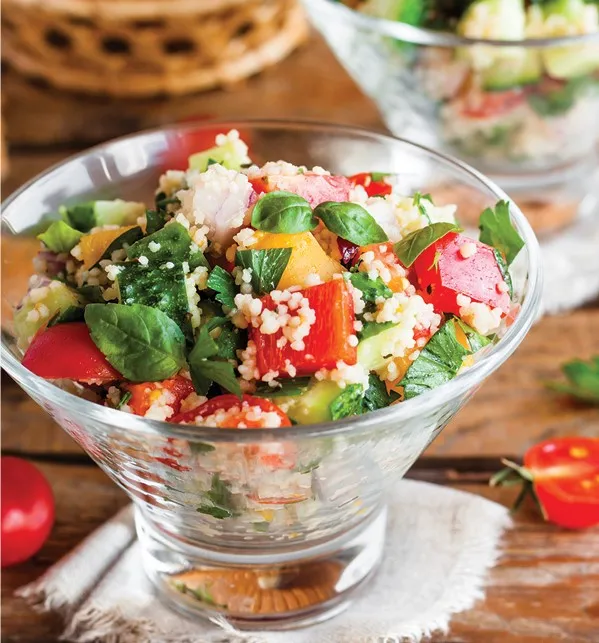 Perfect for a lunch, light dinner, or side dish, this quinoa tabbouleh is nutritionally balanced and full of bright flavors. Unlike traditional tabbouleh, this version is high in protein and fiber with the use of whole grain quinoa. For a complete meal, add seasoned ground chicken or turkey breast for a fresh and hearty salad.
Recipe
Ingredients
1 cup quinoa, uncooked
1 cup diced tomatoes
1 cup diced cucumbers
½ cup diced red bell peppers
1 cup fresh parsley, chopped
½ cup fresh mint
2 lemons, juiced
2 Tbsp olive oil
½ cup feta cheese (optional)
Directions
Rinse and cook quinoa according to package instructions.
While quinoa is on the stove, combine the tomatoes, cucumbers, peppers, and herbs in a large bowl.
Once quinoa is cooked and cooled, add into the vegetable and herb bowl.
Add lemon juice and olive oil.
Top with feta cheese if desired.
Nutritional data
Per serving: 200 calories, 9 grams fat, 2.5 grams saturated fat, 10 mg cholesterol, 125 mg sodium, 23 grams carbohydrate, 3 grams dietary fiber, 7 grams protein
Discover More Recipes