Lemon Parmesan Chicken with Broccoli Rice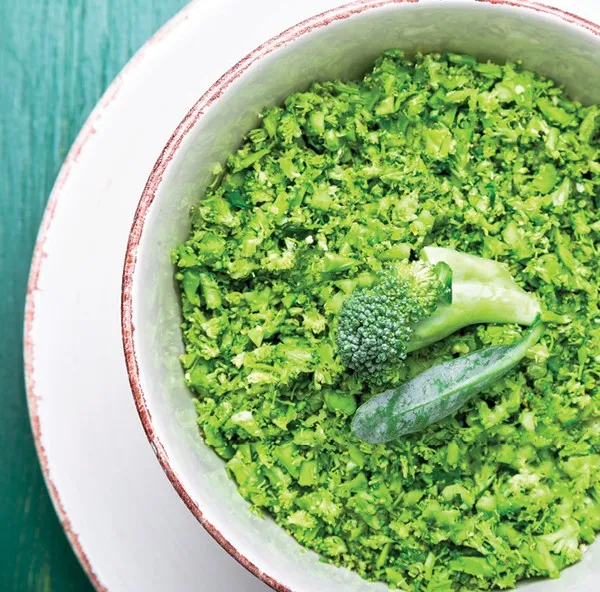 This dinner entrée is light, flavorful, and perfect for an easy weekday dinner. Broccoli rice is simple to make and complements the lemon and parmesan chicken well. Broccoli, a member of the cruciferous vegetable family, is high in fiber and antioxidants, making it an ideal dish for cancer survivors.
Recipe
Ingredients
2 Tbsp olive oil, divided
2 garlic cloves, minced, divided
2 ½ lemons, zested and juiced
1 tsp honey
1 ½ lb chicken breast
Salt and pepper
½ cup Parmesan cheese, divided
1 bunch broccoli
Directions
Combine 1 Tbsp olive oil, 1 minced garlic clove, lemon juice and zest, and honey.
Marinate chicken in mixture for 1-2 hours.
Heat remaining olive oil over medium heat. Add chicken and season with salt and pepper. Reserve marinade.
Cook for 3-4 minutes on each side. Add reserved marinade and deglaze pan with sauce. Cook for 1 minute and add ¼ cup parmesan.
While the chicken is cooking, make the broccoli rice. Roughly chop broccoli and add to a food processor. Process until broccoli is in small pieces, similar to rice.
Heat pan and remaining minced clove of garlic. Add riced broccoli, salt, and pepper and cook for 5 minutes. Add 2 Tbsp Parmesan and a squirt of remaining ½ lemon. Stir to combine.
Place broccoli rice in a bowl and top with cooked chicken and remaining Parmesan cheese.
Nutritional data
Per serving: 370 calories, 15 grams fat, 3.5 grams saturated fat, 130 mg cholesterol, 300 mg sodium, 15 grams carbohydrate, 4 grams dietary fiber, 47 grams protein
Discover More Recipes