Ginger Turkey and Wild Rice Soup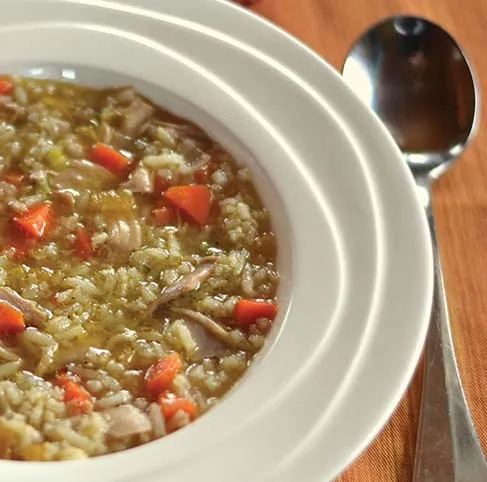 A warming and hearty meal, this soup is perfect for those experiencing nausea and/or vomiting from cancer treatment. Ginger has been shown to help soothe nausea, while broth-based soups can provide much-needed fluids and electrolytes. High in protein and cancer-fighting antioxidants, it is also an ideal meal for those looking for a healthy and flavorful soup to prepare ahead of time and to store in the freezer. For a filling and delicious meal, enjoy with a slice of your favorite bread or crackers.
Recipe
Ingredients
1 Tbsp olive oil
1/2 onion, chopped
1 clove garlic, minced
2 carrots, chopped
1 celery stalk, chopped
Zest of 1 lemon
1 Tbsp ginger root, grated
1/2 tsp salt
4 cups chicken broth
1 tsp dried rosemary
2 cups diced or shredded turkey breast, cooked
2 cups wild rice, cooked
Directions
Heat olive oil over medium heat in heavy bottomed pot.
Add onions, garlic, carrots, celery, lemon zest, and grated ginger. Cook for 5-7 minutes until softened. 
Add salt, chicken broth, and rosemary. Bring to a boil, and simmer for 15 min to allow flavors to combine.
Add cooked turkey and wild rice. Serve.
Nutritional data
Per serving: 203 calories, 4 grams fat, 1 gram saturated fat, 53 mg cholesterol, 16 grams carbohydrate, 2 grams dietary fiber, 25 grams protein
Discover More Recipes