Chicken Puttanesca over Zucchini Noodles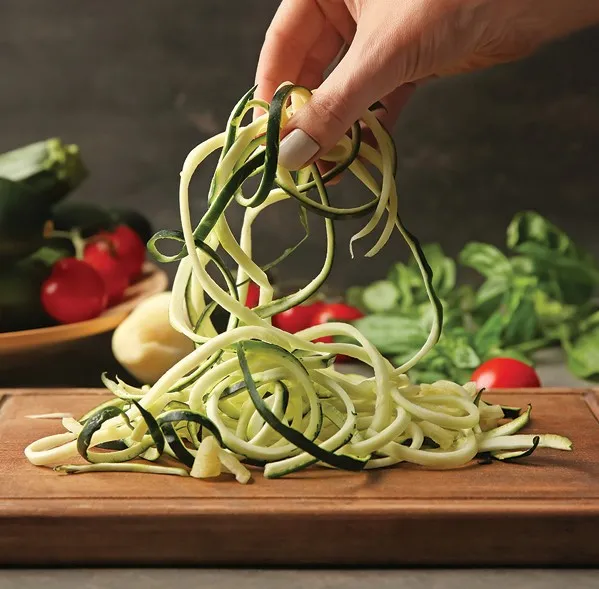 This chicken dish features vibrant flavors from olives, capers, and tomatoes. The chicken pairs perfectly with nutritious zucchini noodles. Find these in the frozen vegetable section at the grocery store. You can also use a spiralizer to make your own. This recipe is also full of nutrition: high in fiber, protein, and healthy fat. If you are looking for extra calories to promote weight gain, choose whole wheat pasta instead of spiralized vegetables.
Recipe
Ingredients
1 lb. boneless, skinless chicken breasts
2 Tbsp olive oil, divided
1/2 cup onions, diced
2 cloves garlic, minced
28 oz can crushed tomatoes
1/4 cup fresh parsley
1 tsp dried oregano
1 tsp dried basil
3/4 cup green olives, pitted and drained*
3/4 cup Kalamata olives, pitted and drained*
2 oz capers, drained*
2 zucchinis, spiralized (or any prepackaged or frozen spiralized vegetable of choice)
* May substitute low sodium olives and capers if reduced sodium content is needed
Directions
Heat 1 Tbsp of olive oil over medium heat. Add chicken breasts and cook for 4-5 minutes on each side until browned. Remove from pan.
Heat remained olive oil in large skillet. Add onions and cook for 6-8 minutes until translucent. Add garlic and cook for additional 1 minute.
Add tomatoes, herbs, olives, and capers to the skillet and simmer for 10 minutes.
Add chicken back into the pan and cook for an additional 4-5 minutes until heated through.
While tomato sauce is simmering, spiralize your zucchini. Heat small amount of olive oil into skillet. Add zucchini noodles and cook for 3-5 minutes, tossing regularly. Remove from pan.
To serve, place zucchini noodles on plate and top with chicken and sauce.
Nutritional data
Per serving: 360 calories, 19 grams fat, 2.5 grams saturated fat, 73 mg cholesterol, 1450 mg sodium, 25 grams carbohydrate, 7 grams dietary fiber, 31 grams protein
Discover More Recipes