Cheesy Chicken Millet Bake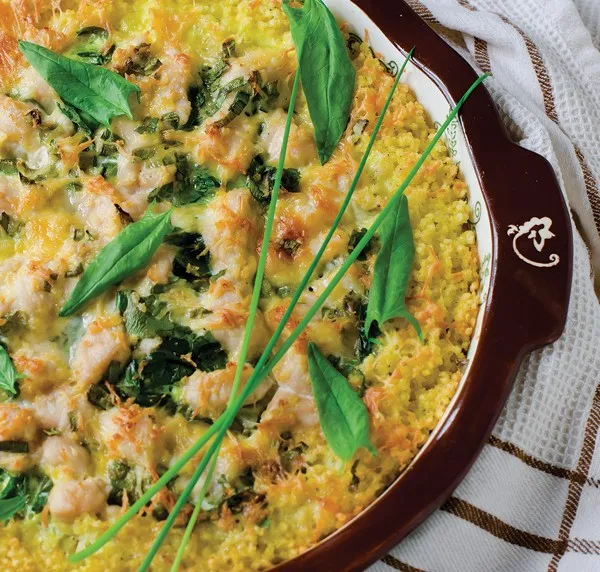 This millet bake is just as comforting as a traditional chicken and rice casserole, but higher in protein and fiber. The leeks add a rich flavor and the cheese gives it a creamy texture. It is a perfect meal to make ahead of time to freeze in individual portions. Since it is high in calories and protein, this millet bake is a good recipe to help those needing to gain weight.
Recipe
Ingredients
1 cup millet
2 cups water
2 Tbsp olive oil, divided
1 lb. ground chicken breast
2 leeks, cleaned and chopped
2 cups fresh spinach, chopped
1 Tbsp olive oil
1 cup milk
2 garlic cloves, minced
1 tsp dried basil
1/2 tsp paprika
1 tsp salt
Pepper to taste
1/2 cup shredded cheddar cheese*
1/2 cup grated parmesan cheese*
Directions
Preheat oven to 350 degrees F. Lightly grease baking dish.
Cook millet according to package instructions. Once water is absorbed, place cooked millet in baking dish.
While millet is cooking, add 1 Tbsp of olive oil into large skillet. Once heated, brown chicken in skillet, seasoning with salt and pepper. Remove from pan once cooked and add to baking dish with millet.
Add leeks and spinach, cook for 5 minutes, until softened. Add to baking dish with millet.
Heat olive oil over medium heat. Sauté garlic cloves, add milk and spices. Let it come to a simmer and then add cheddar. Stir until melted. Add to baking pan and mix together.
Top with parmesan cheese. Bake for 20 minutes until lightly browned.
Nutritional data
Per serving: 410 calories, 17 grams fat, 7 grams saturated fat, 80 mg cholesterol, 780 mg sodium, 33 grams carbohydrate, 4 grams dietary fiber, 32 grams protein
Discover More Recipes