Cauliflower Burgers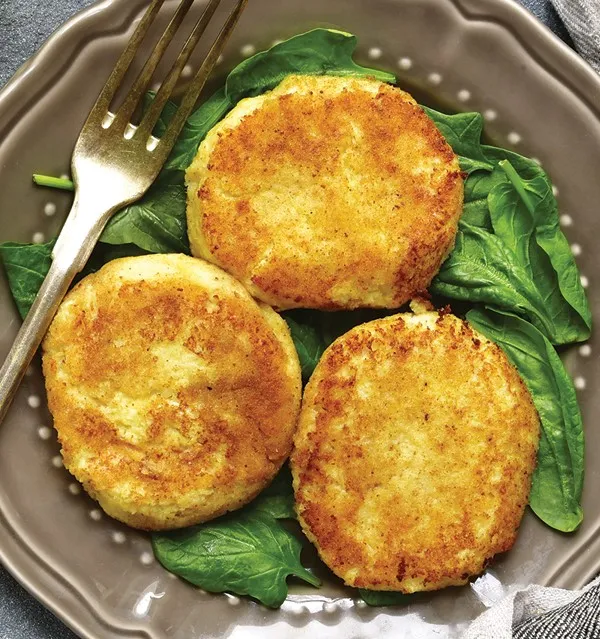 These burgers are made from cauliflower and millet, two foods that are high in fiber, making them ideal to relieve constipation. They are also high in protein to help with healing. You can get riced cauliflower in the frozen vegetable section of many grocery stores. You can also rice your own cauliflower, using a box grater or food processor. Top these delicious burgers with cheese, avocado, or lettuce and tomato for a delightful treat.
Recipe
Ingredients
1 (12 oz) frozen bag of riced cauliflower
1 1/4 cup cooked millet (or quinoa)
1/2 cup whole wheat breadcrumbs
1 tsp cumin
1 garlic clove, minced
3/4 cup shredded cheddar cheese
2 eggs
1 tsp salt
10 whole wheat hamburger buns (or other bread of choice)
Directions
Squeeze out excess fluids from riced cauliflower in clean dish towel.
Add riced cauliflower and remaining ingredients into a large food processor or blender. Blend until the ingredients come together.
Remove from blender and form into 10 patties.
Spray large skillet with cooking spray and set to medium heat.
Add patties and cook for 5 minutes on each side, or until browned.
Repeat with remaining patties.
Serve on whole wheat hamburger buns. Top with desired toppings.
Nutritional data
Per serving: 250 calories, 7 grams fat, 2.5 grams saturated fat, 45 mg cholesterol, 560 mg sodium, 35 grams carbohydrate, 1 gram dietary fiber, 12 grams protein
Discover More Recipes