Baked Falafel with Ginger Tzatziki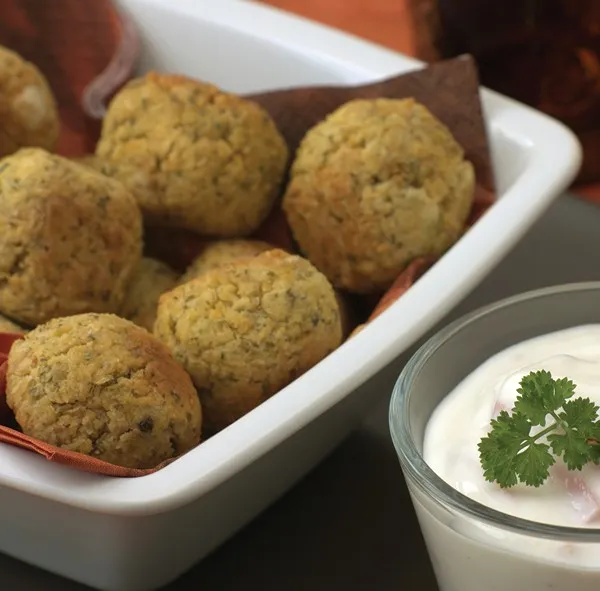 Falafel is a fun and healthy dish, full of nutrition and flavor. This version is baked instead of fried, so it is lower in fat and easier to tolerate for those with digestive issues. The tzatziki dip has a light ginger and lemon flavor, both of which can be helpful for nausea. If you are looking for a heartier meal, place falafel on a pita or naan bread and top with tzatziki, hummus, and fresh vegetables.
Recipe
Ingredients
1 can chickpeas, drained
1 cup fresh parsley
1/2 cup fresh cilantro
1/4 cup fresh mint
1 clove garlic, minced
2 Tbsp lemon juice, divided
1/2 tsp salt
1 tsp cumin
1/2 tsp baking powder
2 Tbsp flour
3/4 cup plain Greek yogurt
1/2 cucumber, grated
1 inch ginger slice, grated
Directions
Preheat oven to 375 degrees F. Spray baking sheet with cooking spray.
Combine chickpeas, herbs, garlic, 1 Tbsp lemon juice, salt, cumin, baking powder, and flour in large food processor or blender. Blend until combined.
Form into small patties and place on prepared baking sheet.
Bake for 20-25 minutes, flipping halfway, until browned on both sides.
While falafel patties are cooking, make tzatziki dip. Combine yogurt, cucumber, remaining lemon juice, and grated ginger in a small bowl. Place in refrigerator until ready to eat.
To eat, dip falafel in tzatziki sauce and enjoy!
Nutritional data
Per serving: 150 calories, 2.5 grams fat, 0 grams saturated fat, 0 mg cholesterol, 520 mg sodium, 23 grams carbohydrate, 5 grams dietary fiber, 10 grams protein
Discover More Recipes