Baked Apple Yogurt Parfait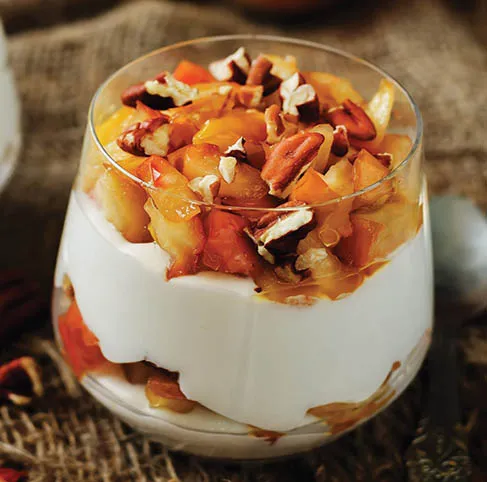 A simple breakfast for those on the go! High in calories and protein, this parfait is ideal for cancer patients who have experienced weight loss during cancer treatment. Cancer survivors and caregivers looking for a lower fat option can use low fat Greek yogurt and omit the granola to have a healthy, low calorie snack or breakfast. If chewing and/or swallowing is difficult, cook the apples until fully soft and replace the nuts and granola with a spoonful of finely ground nuts or peanut butter and mix into the parfait.
Recipe
Ingredients
1 1/2 cups plain Greek yogurt
2 Tbsp pure maple syrup
1 apple, chopped
1/4 tsp cinnamon
1 tsp brown sugar
2 oz chopped walnuts or pecans
1/4 cup granola
Directions
Combine Greek yogurt and maple syrup in a bowl and set aside
In a small pot, add apple, cinnamon and brown sugar
Cook for 5-10 minutes, until apple is softened to desired consistency
Assemble your parfait: alternate layers of maple Greek yogurt, baked apples, nuts, and granola
TIP: For a timesaver, use pre-made apple pie filling on your parfait instead of cooking your apples.
Nutritional data
Per serving: 465 calories, 28 grams fat, 5 grams saturated fat, 16 mg cholesterol, 40 grams carbohydrate, 5 grams dietary fiber, 18 grams protein
Discover More Recipes