June Advocate Spotlight: Maria Brown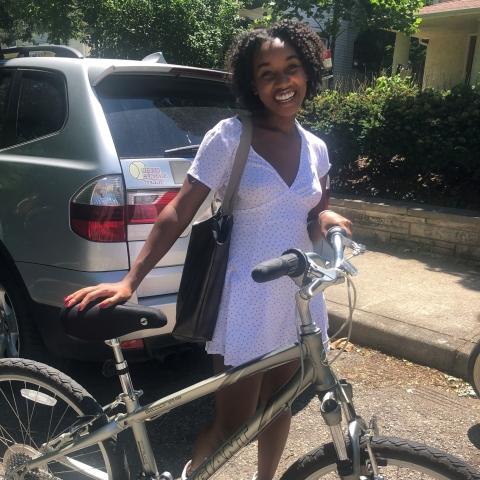 Tell us a little bit about yourself and how you got connected with the Cancer Support Community.
I am a senior neuroscience pre-med student attending Xavier University of Louisiana in New Orleans. I came into college lasered in on setting myself up for medical school. There was no other career avenue that I was curious about or even open to exploring. That quickly changed throughout the course of my first year. I had professors with a contagious passion for their disciplines, and my curiosity bloomed.
Suddenly, my horizons were open to any opportunity that felt right for me to pursue, regardless of whether it aligned with STEM. Ultimately, that is what led me to the Cancer Support Community. My mentor passed along my resume and encouraged me to do research on this wonderful nonprofit. I quickly fell in love with CSC's commitment to patient advocacy and support. I still love healthcare and science, so this is a perfect opportunity to explore all angles of the field that most pique my interest while making a real impact on patient communities.
Did you have experience with advocacy in any capacity before joining CSC?
Before joining CSC, my advocacy was primarily channeled into my social media accounts. Like many young adults, I use apps like Instagram to raise awareness on topics I find important. Recently, my advocacy posts have focused on human rights, racial injustice, and health equity. A valuable part of working for CSC has been gaining insight on the different ways advocacy can happen. In the future, I plan to continue advocacy for cancer patients and their families because my involvement in CSC has been incredibly fulfilling.
"When we rely on others to enact change that we want to see, we possess no agency in seeing those changes implemented. Your perspective and participation matter."

— Maria Brown
Is there one cancer care issue you are particularly passionate about?
I am very passionate about drug pricing for chemotherapy treatment. I have watched several of my family members undergo cancer, all in different life stages and financial situations. I never previously thought about the cost of treatment. It seemed bizarre for cancer drugs to not be affordable, since chemotherapy is often a crucial component in keeping cancer patients alive. My naive outlook has drastically shifted, as I now know how hefty the price of those life-sustaining drugs can get.
The price for an oral chemotherapy prescription can resemble a year's worth of income for an upper middle-class household. Frankly, this system is inhumane and archaic. Considering how widespread and potentially deadly cancer is, it is important to me that something is being done to make these treatments more accessible and affordable so that cancer treatment becomes a universal standard rather than a privilege.
What is one tip or piece of advice you'd like to share with others who are interested in becoming an advocate?
There is a psychological theory called the bystander effect. The theory posits that, in a crisis, it is unlikely for individuals to give aid when they perceive that other individuals are present as well. In other words, people assume others will carry the burden of helping as justification for their own inaction. My advice is to be the person who does something. When we rely on others to enact change that we want to see, we possess no agency in seeing those changes implemented. Your perspective and participation matter.
Tell us something fun about yourself — any hobbies, interests, or fun facts?
I'm learning how to speak Danish, which is an absolutely impossible language to learn. But I'm still having a lot of fun with it. I hope to get a master's degree in neuroscience or global health at the University of Copenhagen after graduating next year. So, hopefully the work I'm putting in now pays off. I also love yoga. I've been practicing yoga for about 2 years and it has improved my mind and body tremendously. Maybe I'll be able to combine these 2 hobbies one day and teach a yoga class in Danish or something.
If you are interested in learning more about policy, advocacy, and ways to get involved, sign up to be a member of the Grassroots Network.