January Advocate Spotlight: Liz Hiles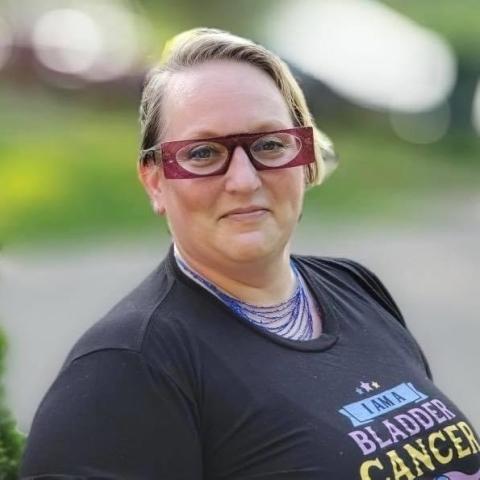 Tell us a little bit about yourself and your experience with cancer advocacy.
In my late 30s, I began having increased urinary problems. I was told they were normal and that I was probably beginning to head into menopause. Eventually I found myself in the emergency department numerous times, doubled over in pain. I was treated like a suburban housewife junky instead of someone with a legitimate problem. I was told that I had either a UTI or a bladder infection, even though none of my test results indicated infection. I was repeatedly given medication and shuffled out the door despite telling them that I was a repeat visitor, I did not want drugs, and the drugs weren't helping. I begged for a referral to a urologist and was not given one.
By the time I was diagnosed, I was urinating blood clots and the ED physicians assumed that I did not know my own body and that my symptoms were related to my menstrual cycle. It took me bursting into tears—when I was told I was going to be discharged with medications again—for a PA to take pity on me, dig through my chart more, and refer me to the urology department, whose staff was appalled that I hadn't been referred to them sooner.
Soon after, I was scoped. The biopsy confirmed that I had bladder cancer. I was scheduled for a radical cystectomy with an ileal conduit placement. Post-surgery results showed that my cancer was stage 3B with a T4 tumor about the size of a baseball that had grown through my bladder wall and started attaching to my cervix.
Prior to my surgery, I had started doing research on bladder cancer and found that it is stereotypically an old, chain-smoking, white-male disease, but that this stereotype was rapidly changing. I did not understand why the medical field had not caught up with that. My urologic oncology surgeon said that there is no way they would have missed my tumor had they looked. Diagnosed just shy of 41, I most definitely did not fit that stereotype.
I have grown up doing advocacy, so it was a natural fit for me to go that route after my diagnosis. I wanted people to hear my story and learn what I had gone through so that others would not have to be diagnosed as late as I was. After I shared my diagnosis with close family and friends, I went public on social media and started planning a campaign and fundraiser surrounding my procedure date. I shared facts about bladder cancer and my personal experience. I also asked friends and family to wear purple, blue, and marigold on the date of my procedure, post on social media, and tag me while I sponsored a Facebook fundraiser for cancer research.
Once my treatment ended, I knew I had to continue sharing my story. After hearing far too many similar stories in online forums, I knew my story was not unique, so I started a blog and continued to look for ways to share my story through writing and other avenues. I joined and later became president of my local ostomy association and am active with the national organization. Most recently, I had the opportunity to speak on a panel for the GRYT Health Global Virtual Cancer Conference, where I discussed the importance of sharing your cancer story and how it helps others. I am in the process of writing a detailed letter to the medical facility that did not appropriately diagnose me, as well.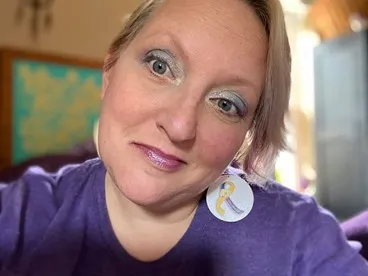 Is there one issue you are particularly passionate about?
There are several issues that I'm passionate about:
Sharing your voice

: Not only do you help others by sharing your story, but you help and empower yourself. Words are just as healing as medicine. 

Bladder cancer:

Globally, bladder cancer is the 10th most common cancer according to recent World Health Organization statistics (2018). Yet, no one is talking about it. I worked in a medical facility at the time of my diagnosis and didn't even know bladder cancer was a thing until I was diagnosed with it.

Ostomy awareness and education

: Many people who are faced with bladder cancer hesitate on getting an ostomy—a life-saving procedure—and they do so without knowing the facts about ostomies. The best way to get rid of cancer is to get rid of cancer. By taking the cancer out instead of scraping and chemo—which usually do not work in the long term—you can get rid of the cause and use a life-saving device. Ostomies are never anyone's first choice, but they will give you your life back. You can live a long life and have a great quality of life with an ostomy.

The changing faces of cancer:

The cancer community often treats minorities, adolescents and young adults, women, single thrivers, and the childfree as after-thoughts, but we are prevalent in the cancer community and need support and access to services just like anyone else does. Not every cancer thriver has the luxury of living in the suburbs or retiring after their cancer diagnosis or treatment. Many of us work and have other commitments. Many do not have access to transportation to get to services and programs only offered in the suburbs. Nonprofit groups and medical professionals need to listen more closely to the populations they serve to better assist them, from screening to after-care support.

Survivorship

: This word was not even mentioned to me until long after my treatment had ended. I live in a community with a Cancer Survivorship Center and it was not mentioned to me as a resource. More studies need to be done on survivorship, more medical and social support must be given to survivors, and more medical care must be provided to patients after they receive harsh, life-saving treatments.
What is one tip or piece of advice you'd like to share with others who are interested in becoming an advocate?
There are no small acts in advocacy. Not everyone needs to lobby Congress or march on Washington. Not everyone even needs to go public with their story. Sometimes, the smallest acts make the biggest impacts. Just sharing your story with close family and friends or speaking up when you're concerned for someone's well-being and encouraging and supporting them in getting checked by a physician can save just as many lives as going viral with your story. If you're not ready for anything big, start small.
Tell us something fun about yourself—any hobbies, interests, or fun facts?
I have always enjoyed writing and have had pen pals globally since I was in the 4th grade. I now keep in touch with them through electronic means, and I am still in touch with many of them. When I'm not writing or doing advocacy work, I'm getting my own content writing and social media management business up and running, reading, walking, hiking, doing anything creative, and (when it's safe to) spending time with family and friends.
If you are interested in learning more about policy, advocacy, and ways to get involved, sign up to be a part of the Grassroots Network!