The Cancer Support Community Is Here for You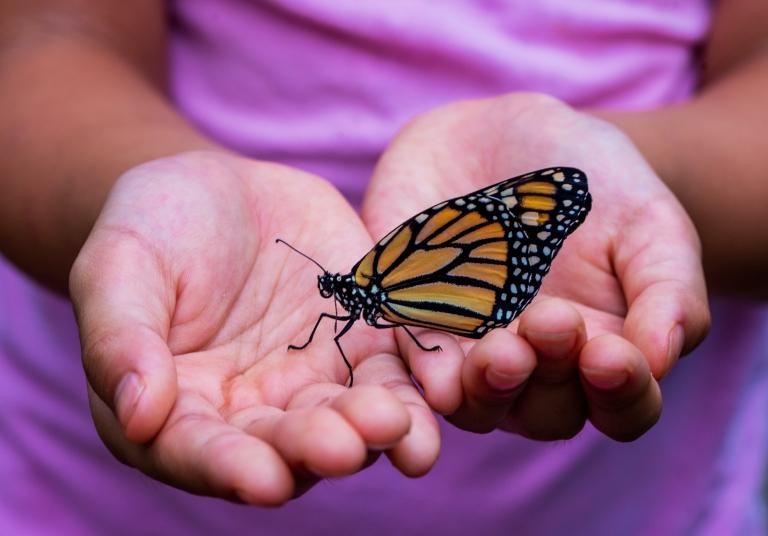 Just over one year ago, the World Health Organization declared the COVID-19 outbreak a pandemic. Our day-to-day lives were upended as coronavirus infection rates quickly soared and social distancing soon became our new normal. The resulting social and economic disruptions spared no one. For those struggling with a cancer diagnosis, the devastation of the pandemic only intensified their feelings of isolation and exhaustion.
Sarah was diagnosed with colorectal cancer one year ago, at age 34. "When we got the news of cancer during COVID-19, it was pretty overwhelming," shared Brian, Sarah's husband and caregiver. "All the phone calls, emails, and appointments that everyone has to go through, we didn't know where to start. There is a physical drain, but the mental drain is much harder."
Sarah and Brian reached out to the Cancer Support Community for help navigating her cancer diagnosis. We connected them with specialists, answered questions, and prepared them for doctor's appointments. "If it wasn't for everyone at the Cancer Support Community, this would be a much more difficult experience," said Brian.
"Since day one, the Cancer Support Community has been there. If it wasn't for CSC, we'd be lost." — Sarah
Cancer didn't stop because of the pandemic, and neither did the Cancer Support Community. We expanded our Helpline hours as patient demand rose sharply. Cancer patients and caregivers called to talk about their concerns with housing, to seek support, to address financial or other concrete needs, and to cope with their emotions.
What is the Cancer Support Helpline?
The Cancer Support Helpline is a free service offered by the Cancer Support Community. The Helpline provides free navigation for cancer patients or their loved ones. Our navigators are available to help with a variety of needs. Through understanding a caller's cancer experience, they can recommend local or national resources like support groups, transportation services, and other programs.
All of our Helpline services are provided in English and Spanish. We also offer help with coping in over 200 languages through a professional translation service.
"Hopefully, we can not only educate people about resources, but also help to 'normalize' what they're feeling in such a way that it helps them feel OK about seeking out the support that can help them along the way." — CSC Helpline navigator
Services offered by the Helpline include:
Providing short-term cancer coping assistance
Identifying short-term housing resources
Assisting with treatment decision planning
Offering financial navigation regarding the costs of cancer care
Providing specialized information and navigation in pediatric oncology, clinical trials, and genetics/genomics
Who can call the Helpline?
Anyone impacted by cancer can reach out to the Cancer Support Helpline — no matter what type of cancer you have, and no matter where you are in your cancer journey. In some cases, callers just need a listening ear or some words of encouragement.
"We provide support for callers, in general. What that looks like from one call to the next, though, may vary. Some people are looking for resources… Others are just looking for someone to talk to and process with." — CSC Helpline navigator
Merritt, a cancer survivor currently in remission, was diagnosed with stage 1 colon cancer and a stage 2 gastrointestinal stromal tumor in 2016. Recently, in the days leading up to a 5-year endoscopy and colonoscopy check-up, thoughts of his cancer returning were keeping Merritt up at night. "I was quite concerned, very anxiety filled, and to say the least, I could not sleep," he said.
In his search for support, Merritt learned about the Cancer Support Community's Helpline and reached out to the staff, who were able to counsel him and offer techniques to help counter his worries. "I would like to thank the two wonderful women (one named Anita) who helped me with my anxiety," noted Merritt. "After assuring me that it was normal to be worried about the procedure, I practiced breathing exercises, went back to the gym, and drank plenty of water. My colonoscopy and endoscopy went well, and I was told I am cancer free."
"The Helpline was important to me because [it made] me realize that I was not alone in my worries and that they were normal." — Merritt
Whether you are a cancer patient or survivor, caregiver or loved one to someone with cancer, the Helpline is here to help you navigate your questions, concerns, and needs. Reach out today through our live web chat service or give us a call at 888-793-9355. Our navigators are available Monday through Friday from 9 a.m. to 9 p.m. ET, and on Saturdays and Sundays from 9 a.m. to 5 p.m. ET.
Much has changed since the arrival of the pandemic, but our services — essential as ever — have not. The Cancer Support Community is here to provide personalized support when and where it is needed most, because community is stronger than cancer.