White House Cancer Moonshot Coordinator Shares Progress & Priorities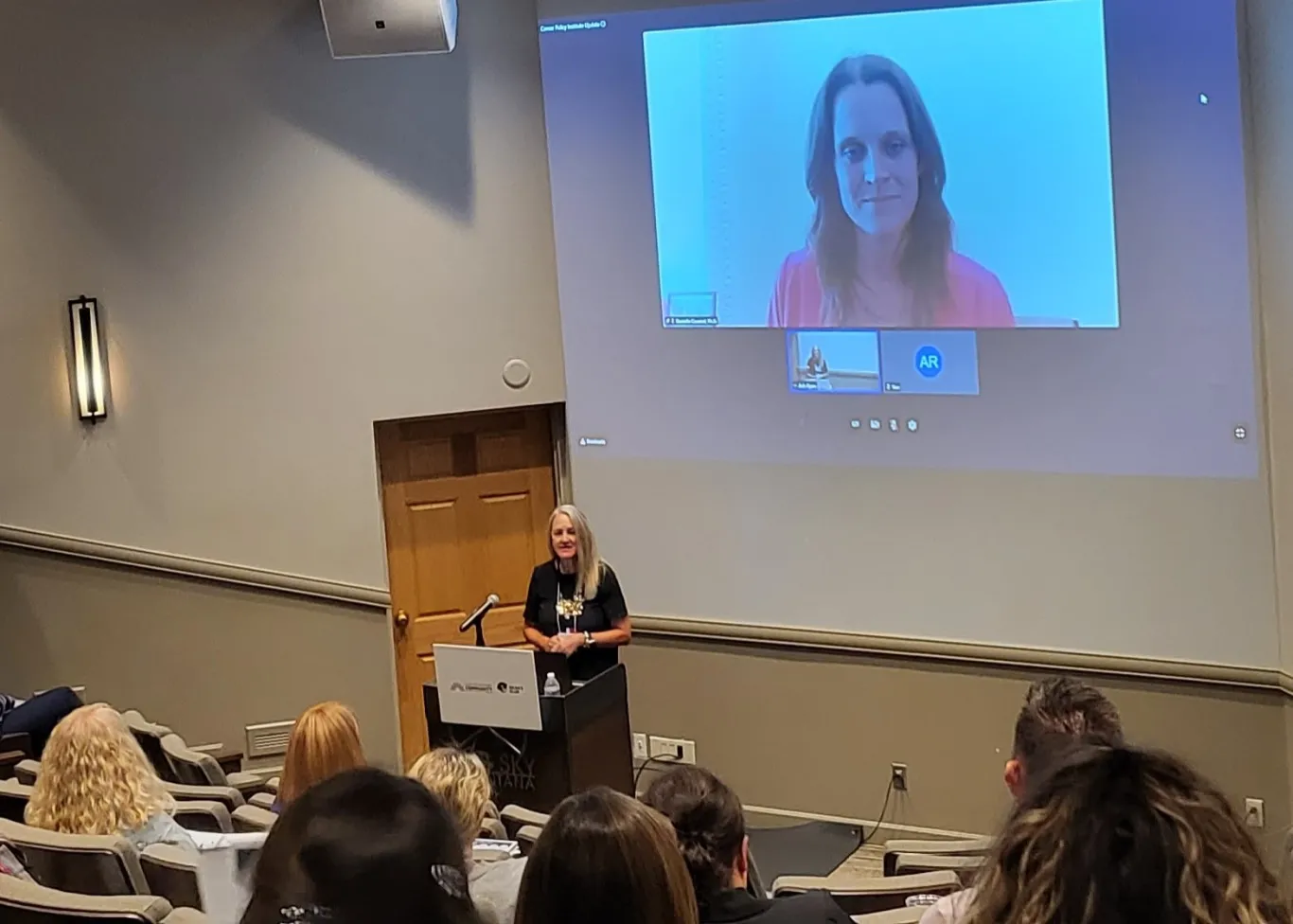 From the very beginning, the Cancer Support Community has been a dedicated partner and go-to resource for the Cancer Moonshot, the White House initiative led by President Joe Biden and First Lady Jill Biden to end cancer as we know it. At the heart of the Moonshot's mission is a call to join forces — to work together — to reduce the death rate from cancer by at least 50% over the next 25 years. The Moonshot also aims to improve patient experiences in diagnosis, treatment, and cancer survivorship. Cancer advocacy groups, research and academic institutions, healthcare providers, the private sector, and those who have personally been impacted by cancer are all encouraged to contribute to the Moonshot's efforts.
CSC's deep understanding of the patient experience at all points along the cancer continuum has positioned our organization as a trusted resource for the initiative, which first launched 6 years ago under the leadership of then-Vice President Biden.
In early August, Cancer Moonshot Coordinator Danielle Carnival, Ph.D. — who leads the President's effort to drive urgent progress for people living with cancer — recognized CSC's contributions during a conference for our network partner leaders. Our network partners provide vital, frontline support services to people impacted by cancer. Dr. Carnival spoke to the audience by video from her office in Washington, D.C.
"[CSC], as an organization and individual leaders, have answered the call every time we've reached out to say, 'Where should we be on this? What do you know from your direct patient experience and care?' And really have helped us inform the Cancer Moonshot from the beginning," she noted.
Dr. Carnival also recognized CSC's early support of the initiative: "The Cancer Moonshot mission started in 2016 when then-Vice President Biden led an effort to double the rate of progress against cancer — a goal to which so many here throughout the Cancer Support Community responded with passion, ingenuity, and commitment."
When Biden first launched the Moonshot, CSC stepped up to the plate. Our network partners hosted 30 of the 100 Cancer Moonshot summits held across the country. These summits emphasized the need to elevate the patient voice and ensure that patients are educated and empowered partners in their healthcare.
"[CSC], as an organization and individual leaders, have answered the call every time we've reached out to say, 'Where should we be on this? What do you know from your direct patient experience and care?'"

— Danielle Carnival, Ph.D., Cancer Moonshot Coordinator
In February 2022, CSC had a presence at the White House when President Biden made the historic announcement that he was reigniting the Moonshot with a focus on cancer screening and early detection. Studies have shown that millions of people have delayed their routine screenings for cancer because of the pandemic. As a result, we, our family, and our friends are more likely to be diagnosed with further advanced cancers.
In support of the Moonshot's mission, CSC launched a campaign this summer urging Americans to schedule their routine screenings and to spread the message to others.   
Take the Pledge to Get Screened
"On May 11, we saw how the private sector stepped up in support of the Cancer Moonshot, beginning with new announcements on cancer screening and early detection, and Cancer Support Community was among one of those new commitment makers," shared Dr. Carnival.
In addition to delayed screenings, there remain other challenges in the progress against cancer. As Dr. Carnival spoke to CSC's partner leaders, she highlighted areas of priority focus that President Biden has identified. Among those priorities, she noted the "stark inequities in diagnosis, access to treatments and trials, and outcomes." She also acknowledged that "we don't learn enough from the experiences of most patients."
"We really put these pillars out there as a shared agenda," added Dr. Carnival, "against which we can measure progress and focus both through the work we are doing through the federal government and what you all can bring to the table."
Her words echo a key statement on the White House's Cancer Moonshot webpage: "Ending cancer as we know it will take all of us doing our part."
Dr. Carnival's presentation summed up the impressive progress our country has made to date against cancer, thanks to the collaborative and collective efforts of many forces coming together to support the Moonshot. "We are just getting started," she enthused.
So many of us have been touched by cancer, whether personally or through the eyes of a friend or loved one who has experienced this life-altering disease. Dr. Carnival concluded with a call to action that so many of us — as a result — can answer:
"The goals and priorities for the Cancer Moonshot must be informed by those with direct experiences with cancer. Please share your [stories] and encourage others to share their stories of inspiration and knowledge from direct experience with cancer; share your ideas for how we can focus these efforts; share new actions and collaborations that we can highlight from organizations, companies, and institutions at whitehouse.gov/cancermoonshot."
As the Moonshot has already demonstrated, we can make incredible strides when we all work together to achieve progress against cancer. Will you join us?