7 Tips to Manage Scanxiety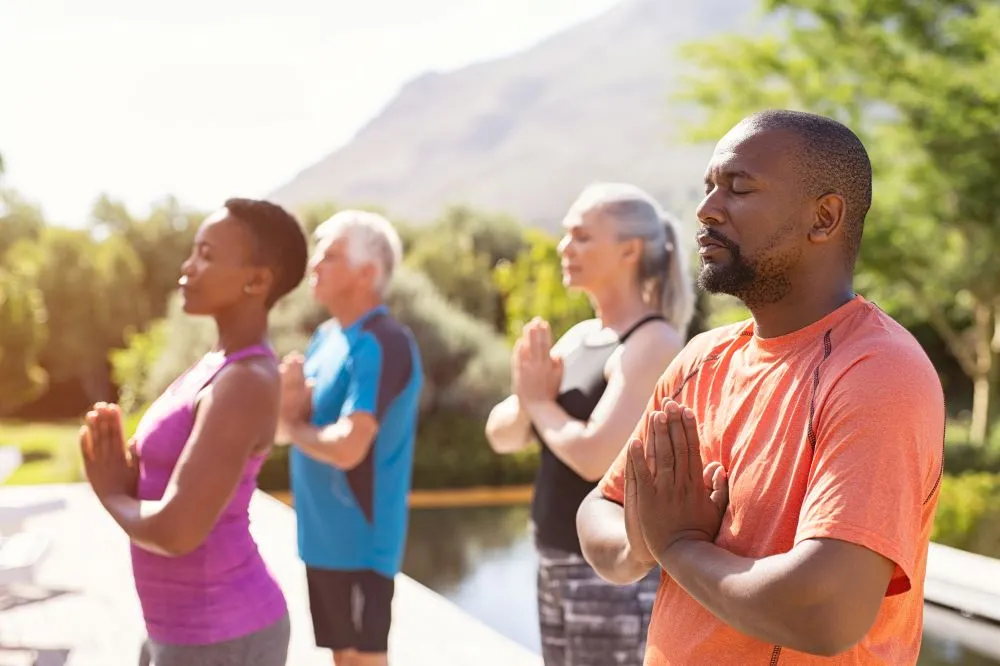 There's no getting around it: cancer is a waiting game. Whether it's for test results, a loved one's upcoming scan, or your 5-year checkup after treatment is complete, waiting can be one of the most stressful aspects of living with cancer.
If you find yourself feeling anxious as the next scan approaches, you're not alone. In fact, this normal worry is so common that the cancer community gave it a nickname: "scanxiety." There's no one-size-fits-all solution, but there are strategies that can help you cope.
Try one or more of these self-care tips to ease the stress of scanxiety:
1. Give yourself permission to feel scared or angry. 
If you're surprised by your emotional responses, try to remember that you're human, and that this is a normal reaction to a really stressful time. It's also important to share your fears with loved ones so you don't have to carry them alone.
Discover More Tips on Coping With Emotions
2. Know when to ask for help. 
If you feel anxious most or all the time, this is a sign you may need extra help. Tell your oncology team, primary care doctor, or social worker. They may suggest individual therapy or medication — many people use one or both of these tools to help manage anxiety while cancer is in their lives.
3. Join a support group. 
Talking about your scanxiety, and hearing that others feel the same, can go a long way. Support groups can help you feel less isolated and improve quality of life. Professionally facilitated groups are available free of charge at your local Cancer Support Community or Gilda's Club location. Find a caring and supportive location near you.
If you don't have a location in your area, groups may be available at your cancer center or other local community organizations. Online support is another good option if there's nothing close to home. Join CSC's free online cancer community to connect with others who are going through similar experiences.
Learn More About the Benefits of Support Groups
4. Distract yourself. 
Even though talking about your feelings is important, taking breaks from thinking about cancer is crucial, too. While you're waiting on a scan or results, find activities you enjoy. Watch a TV show, listen to a podcast, read a page-turner, or start a new project. The key is to do something you can really get lost in, so your mind doesn't wander back to anxious feelings.
5.  Exercise. 
Even gentle exercise like walking or yoga produces endorphins, which can help you sleep better and reduce stress. The best way to stay active is to find a type of exercise you enjoy instead of trying to force yourself into something you don't. Maybe this is walking outside, going to the gym with a friend, or trying an exercise class. If there is a CSC or Gilda's Club location near you, check to see if they offer yoga and other exercise classes.
View Our Guided Yoga & Gentle Exercise Videos
6. Meditate. 
Meditation can help people with cancer and their loved ones manage stress and treatment side effects. If you're new to the practice of meditation, try a class at your local CSC or Gilda's Club location, or visit CSC's virtual Mind Body Studio for guided meditation videos. The Michigan Medicine Comprehensive Cancer Center also offers an online library of free guided imagery podcasts designed for people with cancer and caregivers. 
Meditation has become so popular that there are dozens of apps for your mobile device that can teach you how to incorporate helpful techniques into your daily routine.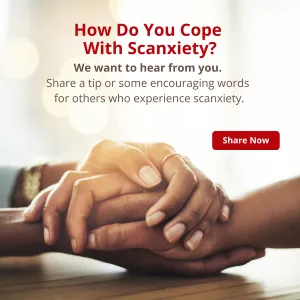 7. Be careful looking for information online. 
Going online can be a terrific way to empower yourself with knowledge and network with others. But with the amount of information available online (of varying quality), spending a lot of time researching can actually do more harm than good. 
If you have questions about what to expect from a test or scan, ask your healthcare team before looking for answers online. If you want to educate yourself online, stick to reputable sources and remember that each person's cancer is different. Other people's experiences — and even statistics — can only tell you so much.
Even though you can't control the waiting game, or the scanxiety that comes with it, you can take active steps toward feeling better. Most importantly, remember that what you're feeling is normal, and you're not alone.
"In 2016, I had stage one colon cancer as well as a GIST tumor, stage two, in my stomach. Several weeks ago, I was going to have an endoscopy as well as a colonoscopy. I was quite concerned, very anxiety filled, and to say the least, I could not sleep.

I would like to thank the two wonderful [Cancer Support Helpline navigators] who helped me with my anxiety. After assuring me that it was normal to be worried about the procedure, I practiced breathing exercises, went back to the gym, and drank plenty of water. My colonoscopy and endoscopy went well, and I was told I am cancer free."

― Merritt, Helpline caller

CSC's Cancer Support Helpline provides free navigation for cancer patients or their loved ones. Contact us at 888-793-9355.
Rosie Ingebritson, LMSW, is a clinical social worker and Senior Program Advisor for the Cancer Support Community of Greater Ann Arbor.