Strengthened by Action: Ways to Donate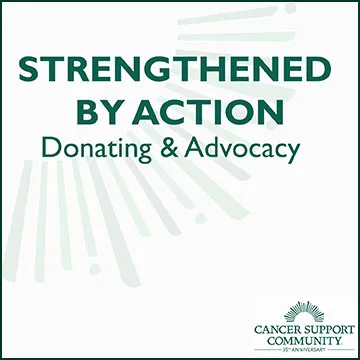 Money can buy happiness.
Buying a new pair of shoes or a fancy dinner won't make a profound impact on your life, but studies show that people who donate money are happier and healthier than those who don't.
An Oregon University Study gave $100 each to a group of participants to split between themselves and a local food bank. After studying MRI tests, scientists found that donating most or all of the money to the food bank triggered a stronger wave of satisfaction than those who spent the money on themselves.
Giving activates pleasure centers in the brain that adds to a person's self-esteem, sense of purpose, overall happiness and physical health, regardless of income level. Studies show that households that give regularly have less stress and a strengthened immune system, leading to lower chances of high blood pressure, heart disease and cancer.
Giving to the Cancer Support Community helps provide free programs and education resources to patients and people impacted by cancer. People like Mary Prough, a 72-year-old lung cancer survivor.
Mary was diagnosed with Stage 1 Adenocarcinoma of the lung in 1983. It became Stage 4 in 2013.
When she was first diagnosed, she worked for a rheumatologist and was a mother of two children ages nine and 11. She remembers sitting in a brown chair in the doctor's office, sitting next to her husband as the physician told her she had lung cancer.
"They were the most devastating words I have ever heard," Mary said. "I thought I would die. Back then, it was a death sentence."
She struggled through years of treatment which included an invasive surgery to take out the upper lobe of her right lung and another to remove the bottom of her left lobe years later. When doctors said there was nothing more they could do to treat her, she enrolled in an immunotherapy trial. Three years later, a CT revealed no evidence of disease.
Mary had beaten cancer twice, but she lived in fear that the cancer would come back. To distract herself, she got involved in cancer awareness campaigns. She volunteered as a speaker for the American Cancer Society, enrolled in the Cancer Support Community, attended rallies and spoke about her experiences.
"I found that the more I shared my story, the less scary it became," she said.
The Cancer Support Community provides the types of services that helped Mary get through both of her diagnoses. CSC offers information on living with cancer and how to be involved in your healthcare decisions through support groups, treatment options, and clinical trial information among other services. All of this is free of charge thanks to the generosity of donors.
Consider leaving a gift in your will, making a tribute for a loved one,  giving through work or joining the CSC Circle of Strength, a giving club that offers unique benefits to members of all donation levels.
The positive effects of giving behavior are brought on by knowing you are making an impact in a cause you care deeply about. Lead a happier, healthier life by using your money to make a difference in the lives of everyone impacted by cancer.