Access to Care in Cancer 2016: Cost of Care
The impact of financial difficulties on patients with cancer are becoming well recognized. Findings from a research study on the impact of health care costs on well-being and treatment among cancer patients suggest that insured patients undergoing cancer treatment experience substantial financial burden, and that health insurance coverage does not eliminate financial distress among cancer patients (Zafar et al., 2013). Results of this study indicate that cost of care is a major concern for people facing cancer with a wide range of impact on treatment and lives.
Out of Pocket Costs
People surveyed reported that, within the last 12 months, their out-of-pocket (OOP) costs were larger than expected (42.5%). Respondents with employer-sponsored coverage were the most likely of all insurance types to report larger than expected OOP costs (49.9%), whereas Medicare-covered individuals were the least likely to report larger than expected OOP costs (32.5%) but most likely to report that their OOP costs were about what they expected (43.9%). When asked about the source of OOP expenses, respondents most frequently named oral medications (44.3%) and injections or shots (49.4%).
Discussion About Costs of Treatment
The increasing cost of cancer care in the U.S., coupled with added financial responsibility shifting to patients, demands patients and providers to consider cost as a part of the treatment discussion. Yet, a startling 79% of survey participants either have not had a discussion or do not recall discussing health care costs with their doctors prior to receiving treatment.
This is not altogether surprising given research showing that doctors are not prepared to discuss or comfortable discussing costs of care with their patients (Schrag et al., 2007). Doctors are being tasked with controlling costs through bundled reimbursement and cost containment strategies and are now expected to be knowledgeable in the wide variety of health care coverage plans and copays across the health care insurance market. Additional resources are needed to help prepare physicians and patients to have productive conversations about the cost of care.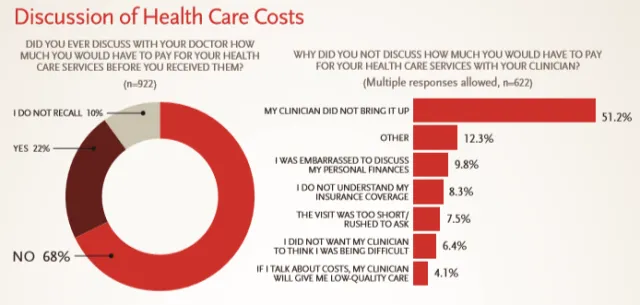 The main reasons respondents gave for not discussing the cost of treatment with their doctors were:
Clinician did not bring it up (51.2%)
Embarrassment in discussing personal finances (9.8%); and,
Lack of understanding of insurance coverage (8.3%).
Of the 22% of respondents who discussed the cost of treatment, 68.1% of them reported having a family member or caregiver as a part of the discussion. Caregivers not only provide physical and emotional support; they play an important role in the treatment decision making process. They participate in conversations with health care providers, keep track of paperwork, and fill out insurance forms.
The overwhelming majority of respondents who discussed cost with their doctor reported not using a guide or decision tool during discussion (77.5%). Decision tools can help physicians better understand the cost issues faced by patients and provide them with the opportunity to structure a cost conversation in a way that is less embarrassing or uncomfortable for patients.
Impact of Costs on Treatment Decisions
Health care reform has changed the way treatment decisions are made and how treatment for cancer is paid for. As the cost of medical care increases, and more of the expense is borne by patients, many people with cancer struggle to figure out how to pay for their care, sometimes foregoing recommended care altogether.
Survey respondents reported a number of reasons for not receiving recommended medical care. The primary reasons were: (multiple responses allowed)
Insurance company would not pay for it (90.3%);
Doctor did not accept my insurance (72.2%); and,
Could not afford the care (71.7%).
A number of those surveyed said that they were forced to manage costs and services based on steep OOP costs.
Alarmingly, almost one-fifth (17.8%) of respondents reported not filling prescribed medications due to cost. Almost a quarter of those with private insurance, Marketplace or Medicaid coverage indicated that cost was a factor in the decision to fill prescriptions, whereas respondents with employer-sponsored, Medicare or military coverage were less likely to report cost factoring into these decisions (8.7-16.5%).
The high cost of cancer care has resulted in what is now described as "financial toxicity." Financial toxicity takes into account the amount of money spent and owed, as well as the stress of lifestyle changes resulting from having more limited resources.
Financial assistance to manage the cost of cancer care can include pharmaceutical assistance programs, assistance with insurance premiums, housing and transportation assistance, and other services provided by organizations that help patients access the care they need. Findings of this survey revealed that nearly half (49.4%) of patients who indicated that they did not fill prescriptions due to cost sought financial assistance from a third party.
Of those who reported not filling prescriptions due to cost, 44% were not aware that financial assistance might be an option. It is critical that people with cancer understand the services covered by their health insurance so that they can take full advantage of services offered, and anticipate and budget for OOP expenses. Respondents who had a good understanding of their health coverage were more likely to get recommended health care services than those with poor understanding.
Financial problems caused by cancer have an impact on quality of life (Fenn et al., 2014). Taking control and understanding the nuances of insurance coverage can help alleviate some of the distress caused by financial toxicity.