Celebrating Global Diversity Awareness Month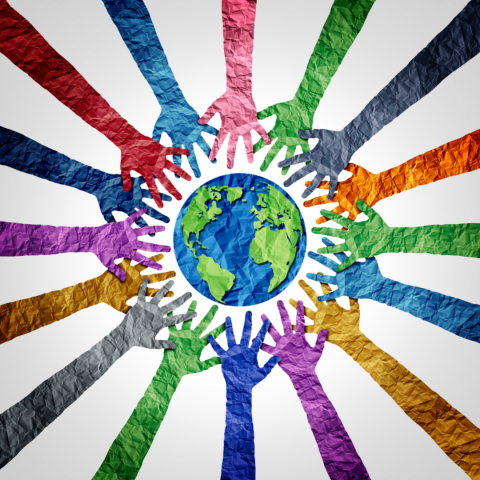 October is Global Diversity Awareness Month — a time to celebrate diversity. It's also a great time to spotlight Cancer Support Community's commitment to advancing health equity for patients impacted by cancer in the United States and around the world. In the spirit of this commitment, we are highlighting some of the diverse support services, educational materials, and programs we provide.
Working Towards a More Equitable World
It is vital that all cancer patients and survivors have the opportunity to achieve the best health outcomes no matter their race, ethnicity, gender, age, sexual orientation, socioeconomic status, or location. CSC works carefully to integrate principles of diversity, equity, and inclusion into our operations, policy and advocacy, research, and program efforts.
CSC worked with Tuba City Regional Health Care Corporation on the Navajo Nation to bring the first-ever cancer treatment facility to tribal lands in the United States. We are in the process of recreating this model in Montana. This project continues our community-based partnership efforts to provide culturally adapted cancer care services on tribal lands.
CSC also works to ensure that language does not present a barrier to care by establishing bilingual (English and Spanish) support on our Cancer Support Helpline. The Helpline also offers support in over 200 languages through a professional translation service.
In addition, many of CSC's educational resources are available in Spanish and address a range of cancer care topics, including:
Coping strategies

Financial concerns

Immunotherapy treatment

Clinical trials
Explora nuestros recursos en español 
CSC also offers educational materials about myeloproliferative neoplasms (MPNs) in Arabic, Chinese, Korean, Russian, Spanish, and Vietnamese.
The Need for Diversity in Cancer Clinical Trials
Clinical trials can help identify new ways to prevent, detect, and treat cancer. They can also help improve the lives of people during and after treatment. However, people in racially and ethnically diverse communities, women, and older adults are often underrepresented in cancer clinical trials. Diverse enrollment in clinical trials offers an opportunity to understand how a person's age, gender, race, or ethnicity may affect how their specific cancer responds to treatment (Cancer Support Community, 2021).
It is important to increase the diversity of participants in cancer clinical trials. Increased access to clinical trial participation helps ensure that cancer research results more accurately reflect all populations in the United States.
CSC recently added 3 new resources in our Frankly Speaking About Cancer: Clinical Trials series focused on supporting and educating communities of color as they consider their clinical trial options. These resources answer questions about clinical trials. They also provide starting points that patients can use to have conversations with their health care team about clinical trials. We hope these resources empower patients to become self-advocates.
Our diversity efforts do not begin and end with Global Diversity Awareness Month. Values of diversity, equity, and inclusion are core to CSC's mission to ensure that all people impacted by cancer are empowered by knowledge, strengthened by action, and sustained by community.
Before you go, explore our website for more resources that reflect our commitment to advancing health equity and that promote and support diversity, equity, access, and inclusion in the cancer community.