Walgreens, Cancer Support Community Launch Feel More Like You™ Campaign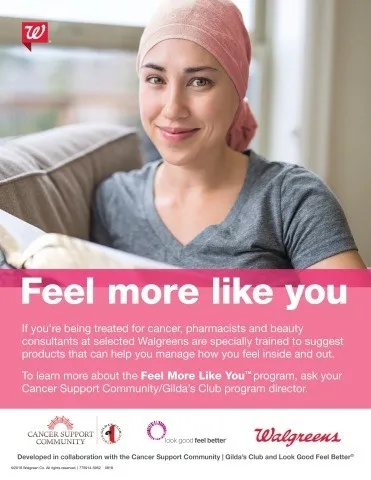 Today, the Cancer Support Community joined with Walgreens in announcing the expansion of Feel More Like You™. This is a first-of-its-kind pharmacy, health and beauty service available at no cost to help people living with cancer manage the medical and physical changes associated with cancer treatment.
As part of the program, more than 15,000 Walgreens pharmacists and beauty consultants at more than 3,000 stores across the U.S. will receive empathy training to address the holistic impact of cancer on patients. The national launch follows a successful pilot program that began in spring 2018.
Walgreens developed this comprehensive offering by collaborating with the Cancer Support Community, including our affiliates in select markets and our experts at the Research and Training Institute in Philadelphia, and another partnering group, Look Good, Feel Better.
"During our 37-year history, we've made it our mission to create and support programs that meet the needs of people living with cancer. We deliver these services at 175 locations, online, and through a helpline," said Kim Thiboldeaux, CEO of the Cancer Support Community. "With the launch of Feel More Like You™, people impacted by cancer will have additional in-person, patient-focused resources at a time when many are looking for personalized oncology information and emotional support."
For those who have been affected by cancer or know someone who has, Walgreens encourages them to become part of the Feel More Like You™ conversation by visiting www.walgreens.com/FeelMoreLikeYou. To find a store on the page, click the find a store button, navigate to more filters in the right hand corner, expand the health services tab, select Feel More Like You™, and click apply filters. Additional resources are also available such as beauty tutorials and other digital content.