Demystifying Distress Screening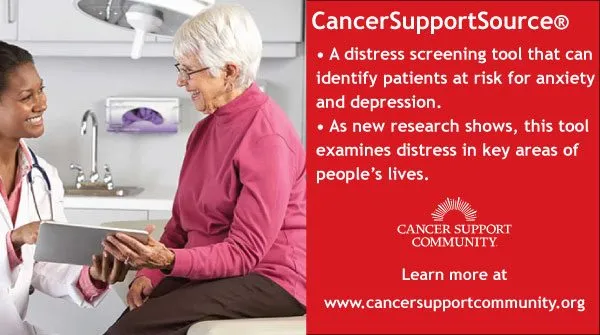 Note to Readers: This post focuses on findings on a study of more than 1,400 adult cancer patients and survivors at the National Comprehensive Cancer Network (NCCN) Annual Conference in Orlando, FL. Below is a post from our research leaders about the significance of their findings for people diagnosed with cancer, their families, and cancer care providers. This release is one of many CSC will do at leading research conferences this year.
By Dr. Alexandra Zaleta, Dr. Joanne Buzaglo, and Shauna McManus 
Whether you are familiar with the phrase distress screening or are seeing it for the first time, the results we are sharing will show how important this tool is for patients diagnosed with cancer.
As we know, cancer patients and survivors can experience many physical, social, emotional, and practical challenges after a cancer diagnosis. That's why our team at CSC's Research and Training Institute is excited to announce that we have developed a newly enhanced version of a tool called CancerSupportSource® (CSS).
CSS is a distress screening, referral, and follow-up program that is used at CSC affiliates and hospitals nationwide. We have been working hard to continue to improve and strengthen this tool to best support patients and their families.
In addition, the CSS tool is beneficial for providers, as more policies, including those from the Centers for Medicare and Medicaid Services, require that care centers use research-supported tools. That is another advantage to CSS. Changes to CSS are incorporated into the existing tool and do not add burden to patients, survivors, or care providers.
The Impact of Patient Feedback
First, CSS can now be used to identify patients at risk for significant levels of anxiety. We have also enhanced our ability to accurately identify patients at risk for significant levels of depression. While it is common for many people to experience depression and anxiety, it is important to identify those who need an extra level of support.
In our latest research, 43 percent of cancer patients who used the tool were at risk for significant anxiety, and 34 percent were at risk for significant depression. We know that depression and anxiety can be very challenging experiences for people living with cancer. Our tool makes it easier to identify those individuals and connect them to the supportive resources that they need.
Second, the tool includes a new item to understand patients' concerns about thinking and concentration (e.g., what some patients might describe as "chemobrain" or "brain fog"). We know that many people with cancer can experience difficulty with mental focus during and after their treatments. CSS will now help those individuals get the support they need for this concern.
Finally, we know that cancer can affect all aspects of people's lives. Using sophisticated mathematical analyses such as factor analysis, we confirmed that CSS examines distress in key areas of people's lives, including: emotional concerns, symptom burden and impact, body and healthy lifestyle concerns, health care communication, and relationship concerns.
By asking about these different areas, we ensure that patients can get meaningful referrals to providers and support services that will be most helpful to their unique needs.
You can view the poster here. 
Share Your Experience
At the Cancer Support Community, innovative patient-focused research like CSS are at the heart of what we do. Thus, we can't do it without insight from patients, and that is why we ask patients, survivors, and caregivers to share their stories by participating in the Cancer Experience Registry, a free, confidential survey that is open to anyone who has been diagnosed with cancer or provides care to someone with cancer.