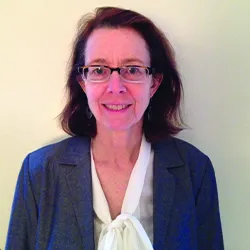 Pamela Goetz, BA, OPN-CG
Oncology Survivorship Navigator, Sibley Memorial Hospital, Johns Hopkins Medicine, Washington, DC.
Pamela Goetz joined Sibley Memorial Hospital, Johns Hopkins Medicine in 2013 as Survivorship Navigator, where she introduced integrative health programing and develops survivorship resources. For four years, she served a central role as navigator on the neuro clinic, providing care coordination to patients and caregivers. Her current position as Survivorship Program Manager entails strategic planning of support and integrative health programing to address barriers, improve quality of life, and enhance self-advocacy for those facing a cancer diagnosis. Pam's responsibilities include program evaluation and quality improvement, cancer committee administration, and partnerships with advocacy groups. Prior to her current position, Pam was Director of Survivorship Programs at the National Coalition for Cancer Survivorship, where she oversaw a CDC grant for hematologic cancer resources. While at NCCS, Pam collaborated with the National Association of Social Workers on health care professional trainings, oral adherence initiatives, and the Cancer Survival Toolbox®.
Pam served on the Leadership Council at the Academy of Oncology Nurse and Patient Navigators from 2013-2020, representing the non-clinical navigator voice. AONN+ recognized Pam's leadership and service with the Ambassador Award in 2018.
In addition to her work in oncology, Pam is passionate about her family, making art, and swimming.