Cancer Support Community Honors Marin Mazzie's Legacy
New York, NY – (September 14, 2018) – The Cancer Support Community (CSC), a global nonprofit network, honors the life, contributions, and heroic advocacy efforts of celebrated actress Marin Mazzie, a three-time Tony Award nominee, who died from ovarian cancer yesterday.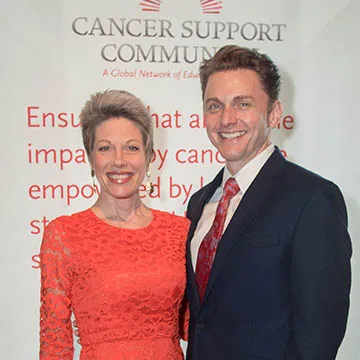 As part of the global nonprofit's policy efforts, Mazzie met with lawmakers on Capitol Hill and encouraged other citizens diagnosed with cancer to add their voice to debates over policy affecting patients and caregivers. In addition, she and her husband, Jason Danieley, worked with performance venues to channel proceeds from ticket sales to contribute to CSC's network of affiliates, hospital and other health-care partners, and online resources that provide $50 million in free services to individuals each year.
"The entire Cancer Support Community mourns the passing of our champion and ally Marin Mazzie,"said Kim Thiboldeaux, CEO of the Cancer Support Community. "Marin was a relentless advocate for all the work we do to help cancer patients and their loved ones. Our thoughts are with her husband, Jason Danieley, their friends and family, and the entire Broadway community. Her legacy is one of courage and determination—a spirit that will continue to inspire us and all the families affected by cancer who turn to our organizations for support."