Walking Heals Body and Mind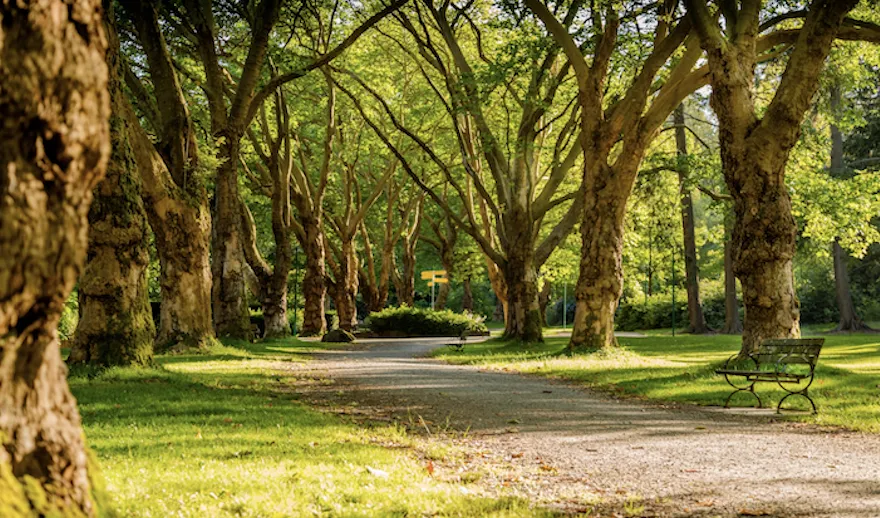 "I know of no thought so burdensome that one cannot walk away from it," wrote Danish philosopher Soren Kierkegaard. 
I can't remember the exact moment that led me to this quote. I know it was sometime in the midst of my husband Brett's cancer diagnosis. We lived on the Upper West Side in New York City, only a quarter block from Riverside Park. As readers know, Brett's illness was a long one with some real crisis moments and many more extended periods of calm. Crisis moments had me wanting to kick box or run; I could do neither. For all the other days, months, and years, I walked. It was all that I had the energy to do. I walked on the worn, cracked cobblestone of the park, beneath the shade of the tall trees and past the children's tot lots and historic statues. Elegant, stone buildings from the late 1800s—houses with outdoor entryways for horse-drawn carriages—framed my view to the right. To my left was the Hudson River. I got lost in my head on those walks. I was able to get away from the emotional toll of being a cancer caregiver, and later from the stress of raising preemie twins with a sick husband. Those daily clarifying walks saved me. I'm sure of it. 
In the 16 years since Brett's death, a trove of research has been published about the health benefits of walking. The National Cancer Institute suggests that physical activity has healing benefits for many cancers. Harvard Medical School reports that some national cancer groups now recommend exercise as part of the cancer treatment. 
I had the privilege of editing a book on this very subject earlier this year by Dr. Audrey Boxwell. She is a leading psychologist in Denver who has built her career around the power of movement. Dr. Boxwell has significant experience leading cancer patients and support groups on meditative walks. She authored From Sole to Soul: A Daily Prescription for Moving Forward in Your Life (Hanover Press, 2020). She is also the founder of PsycheHike®. 
I caught up with Dr. Boxwell over a walk (naturally). She had this to say about the benefits of movement for cancer patients, their caregivers, and families. 
"The first thing is that the increased oxygenation through movement—through sheer walking—increases circulation, which is physically healthful to all organs of the body. In the brain, increased circulation allows for greater calm and creativity. This wider perspective gives patients and caregivers new ideas about how to approach the disease and allows for easier communication when nurturing the path forward."
In my own experience, I recall feeling a profound sense of stuckness over Brett's cancer. There were times when I literally could not clear the post-it notes on my desk. Everything overwhelmed me. 
"I see a lot of patients and caregivers paralyzed by fear, especially after a tough diagnosis," Dr. Boxwell said. "It's easy to become immobilized in these situations, and this is why movement created by walking is so essential. When we move our bodies, we move our minds. In this way, patients and caregivers learn to see different possibilities." 
Here are three, simple activities Dr. Boxwell suggests for patients and caregivers to practice more mindful movement.
Walk for 20 minutes. As little as 20 minutes of gentle walking can change your mood and outlook. Try discovering new streets in your neighborhood. Focus on architecture you might not have noticed before. What's blooming in the fall? Can you identify three new sights? If you can't walk outside, walk in your home. Call a friend and pace while you talk. Listen to a meditation while you walk. Where you walk is less important than walking itself.

Visualize well-being as you walk. Picture the oxygen moving through your body and cleansing your cells. Now, journal that experience and what it felt like. Share this with someone going through a similar situation or a friend. They may have insights that could be helpful for you or someone else. 

For caregivers: Accompany your loved one on a leisurely walk, even using a wheelchair if necessary. It's critical that you walk for your own mental well-being. In the midst of uncertainty surrounding a cancer diagnosis, walking is a tangible, grounding activity. It lets you live in the present moment and with a greater sense of optimism. 
Resilience requires intention. Being intentional about walking and movement is one of the most helpful strategies I know. Sometimes we literally have to let our feet move us forward. 
***
Learn how CSC is offering support here: 
How Does Exercise Combat Depression?
CSC's Virtual Programs' Mind Body Studio