What Cancer Patients, Survivors and Caregivers Need to Know about the Coronavirus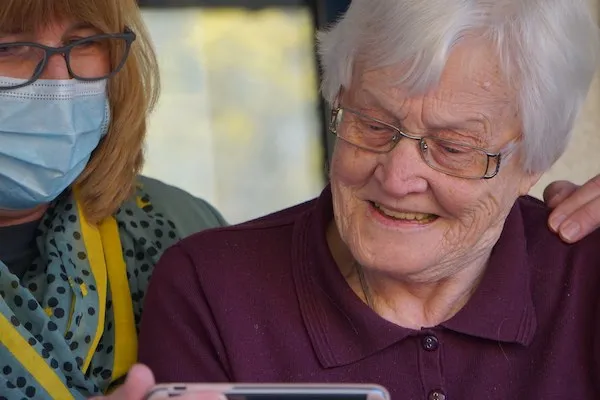 In light of the worldwide efforts to limit the spread of COVID-19, it's normal to experience feelings of isolation. We at the Cancer Support Community are here to remind you that you are not alone —we are in this together.
Our local affiliates are continuing to provide innovative and compassionate care through telephonic and digital channels. Each location has ensured that support groups, navigation, referrals to resources, and educational offerings are available to all those in need. 
At a time when information is coming at us at a rapid pace, we are putting resources for you here, in one place. Below is a list of the resources we have and the actions we are taking to provide support to individuals affected by cancer.
Editor's Note: This webpage has been updated on June 25, 2020
Chat with Cancer Support Helpline Counselors
The Cancer Support Helpline is staffed by counselors and resource specialists who have extensive years of combined experience helping people affected by cancer. All of our services are provided in English and Spanish. As part of the added support people might need due to concerns over the spread of coronavirus, CSC's Helpline has extended its hours of availability.
Our counselors and resource specialists can be reached by phone at 888-793-9355:
Monday - Friday  9:00 a.m. - 9:00 p.m. Eastern Time
Saturday - Sunday 9:00 a.m. - 5:00 p.m. Eastern Time
Financial Support Resources:
Stay Connected to Your Virtual Community
CSC's MyLifeLine.org exists to easily and virtually connect cancer patients and caregivers with friends and family in order to reduce stress, anxiety and isolation.
By creating your own private website, you will find hope, regain control, document your journey, and receive social, emotional, and practical support from friends and family throughout the treatment process and beyond.
On MyLifeLine discussion boards, you can connect with others like you. Share your unique cancer experiences and offer insights, coping strategies and inspiration. Covering a wide range of topics like coping with side effects of cancer treatment, nutrition with cancer, and caregiver support, our discussion boards are moderated by licensed mental health professionals and are available 24/7.
Helpful Information for Patients and Caregivers
Frankly Speaking About Cancer radio show: Spotlight on Coronavirus: Your Questions Answered
An Inspirational Message from Dr. Jill Biden: We are honored that Dr. Jill Biden, a longtime friend of our organization and passionate advocate for patients and families, delivered the first in what will be a series of messages, songs, and other expressions of inspiration.
Choose the Sun, Not the Surrounding Storm:First blog in a new series on resilience. 
Managing Stress from Cancer: Stress and anxiety go hand-in-hand with a cancer diagnosis. Learn more about how to manage the stress that can come from living with and beyond cancer.
Thoughtful Human: COVID-19 Tools, Resources, and Products, including free community connection signs.
Coping with Anxiety & Depression webinar: This program covers ways to cope with the anxiety and depression that often accompany cancer. A psychologist and a social worker will both present information to help, then a patient will share her perspective.
5 Videos to Help You Manage Stress: A cancer diagnosis can be stressful.  Here are five of our favorite videos from patients and caregivers offering helpful tips for managing stress.
Managing Fear: One of the most common feelings reported by survivors is the uncertainty that their cancer will return. Read more for strategies about how to manage the fear that can come with a cancer diagnosis. 
Stories and Insights: Stories connect people. Our MyLifeLine members shared their experiences with the intention of providing encouragement, inspiration, and hope to others affected by cancer.  
Support From A Distance: Even if you live far away, you may find yourself in the position of overseeing your loved one's care or you may share caregiving duties with others. This booklet is written to help you navigate the issues that arise from a cancer diagnoses. Cancer can be traumatic for everyone involved, and caregivers, near and far, can play a vital role in providing comfort, hope and support.
Get Updated Evidence-Based Information
Situation Snapshot: 
The World Health Organization (WHO) declared in March that COVID-19 is a pandemic.
People with an increased risk of being exposed to the virus include:

People in places where ongoing community spread of the virus that causes COVID-19 have been reported
Health care workers depending on their location
People who have had close contact with persons known to have COVID-19

There are two kinds of tests are available for COVID-19: tests for current infection (viral tests) and tests for past infection (antibody tests)
People who are at a higher risk of getting very sick if exposed to COVID-19 include:

Older adults
People with serious chronic medical conditions like heart disease, diabetes, lung disease, cancer (especially blood cancers)

While there is not yet a COVID-19 vaccine, there are easy actions that all individuals can practice to help prevent the spread of the virus.
The Cancer Support Community (CSC) is monitoring the situation and will continue to provide evidence-based information for people impacted by cancer. For up-to-date information, we encourage people to visit the CDC COVID-19 website.
What is the coronavirus?
According to the World Health Organization (WHO), coronaviruses are a large family of viruses that range from the common cold to much more serious diseases. COVID-19 is a new strain of coronavirus that has not been previously identified in humans. The complete clinical picture of COVID-19 is not yet fully understood since it's a new virus.
What are the coronavirus symptoms?
The symptoms are COVID-19 range from mild to severe illness or death. The following symptoms may appear 2 to 14 days after exposure:
Fever
Cough
Shortness of Breath
Chills
Repeated shaking with chills
Muscle pain
Headache
Sore throat
New loss of taste or smell
The CDC has guidance for who should be tested, but they report that decisions about testing are at the discretion of state and local health departments and/or individual clinicians.
What is happening in the United States?
Different parts of the country are seeing different levels of COVID-19 activity. The duration and severity of each pandemic phase can vary depending on the characteristics of the virus and the public health response. Learn more about the current situation in the US on the CDC website. Like many issues related to this topic, we advise readers to check back frequently for any changes.
There is no vaccine to protect against COVID-19. On March 21, it was announced that the Food and Drug Administration (FDA) has approved the first rapid point-of-care COVID-19 test, that can deliver results in less than an hour. For up to date information on COVID-19 tests, visit the CDC website. 
What are the advisories and guidelines around the delivery of cancer care?
The CDC has advised hospitals in certain areas hard hit by coronavirus to reschedule elective surgeries, and the American College of Surgeons (ACS) also advised hospitals to evaluate all elective surgeries as necessary. These steps are being advised to make room for coronavirus patients and also to conserve the supplies that might be need for coronavirus patient care (including protective gear). The ACS also released COVID-19 Guidelines for Triage of Cancer Surgery Patients that is intended to help institutions and providers who are facing a rising burden of hospitalized COVID-19 patients and a higher prevalence of community infection.
The American Society of Clinical Oncology (ASCO) released a Guide to Cancer Care Delivery During the COVID-19 Pandemic, which provides detailed guidance to oncology practices on the immediate and short-term steps that could be taken to help protect the safety of patients and healthcare staff before resuming more routine care operations during the COVID-19 public health crisis. The ASCO guide also summarizes a wide range of policies and practices developed by cancer facilities, as well as guidance provided by government agencies and other medical societies. 
What is the governmental response to COVID-19?
On March 11, the World Health Organization declared that COVID-19 is officially a pandemic as the spread is occurring worldwide. On March 13, 2020 President Trump declared a state of emergency. This will allow for faster responses and relief efforts across the United States, as well as provide additional resources for testing and treatment. 
As state and local authorities have primary jurisdiction for isolation and other public health orders within their respective jurisdictions, including on state and city reopenings, it is important to follow your local health authority's guidance, which can be found on your state government website (which can be found by googling [the name of your state] and government).
How can you protect yourself and your loved ones from the coronavirus?
The CDC reports that if you are immunocompromised, the best way to prevent COVID-19 is to avoid being exposed to this virus. The CDC has issued guidances to protect yourself and others from COVID-19 and prevent the spread of disease by:
Calling your doctor if you are sick.
Avoiding touching your eyes, nose and mouth.
Washing your hands often with soap and water for at least 20 seconds or using an antiseptic hand gel.
Coughing or sneezing into a tissue or your elbow rather than your hand. Throw the tissue away.
Cleaning frequently touched objects and surfaces with household cleaning sprays and wipes.
Stay home as much as possible.

Most states have issued stay at home orders, which can be found on your state government website (this information can be found by googling [the name of your state] and government).

Practicing social distancing. Keep at least 6 feet of space between yourself and other people.
Staying home if you are sick.
Avoiding cruise and non-essential air travel.
Cover your mouth and nose with a cloth face cover when around others.
The CDC has developed guidance to help in the risk assessment and management of people with potential exposures to COVID-19, with information about their current risk assessment below:
People 65 years or older
People of all ages with underlying medical conditions, particularly if not well controlled, including those who are immunocompromised
Healthcare workers caring for patients with COVID-19 are at elevated risk of exposure.
People who live in a nursing home or long-term care facility
It is important to note that people living with cancer (especially blood cancers), those in active treatment and bone marrow transplant patients, have the most significant immune deficits. Medically fragile individuals should make the best decisions for themselves in consultation with their medical team.
Where can you get more information about the 2019 novel coronavirus?
The CDC launched a helpful page that includes comprehensive information about the virus, prevention, testing, and the currently situation in the U.S. The CDC has also issued Guidance Documents to help keep people and communities safe. Patient advocacy organizations and medical institutions have been addressing the ongoing issue including:
References
World Health Organization. Novel Coronavirus 2019. Retrieved from https://www.who.int/emergencies/diseases/novel-coronavirus-2019.
Centers for Disease Control and Prevention. 2019 Novel Coronavirus (2019-nCoV) Situation Summary. Retrieved from https://www.cdc.gov/coronavirus/2019-nCoV/summary.html.
Learn About Policy Updates
Our Cancer Policy Institute is committed to ensuring the voices of cancer patients and their loved ones are included in all policy making. Read updates from Congress and follow CSC's easy-to-understand explanations of recent news and policies.
As state and local authorities have primary jurisdiction on reopenings, isolation, and other public health orders within their respective jurisdictions, it is important to follow your local health authority's guidance, which can be found on your state government website (which can be found by googling [the name of your state] and government). Additional information around state action and legislation can be found on the National Governors Association website on coronavirus, the National Conference of State Legislatures coronavirus resource page, and the National Federation of Independent Business State News Releases webpage.
For breaking updates on COVID-19 policy news and opportunities to engage, follow us on Twitter at @CSCCancerPolicy.
Thank You for Supporting the Cancer Emergency Fund
During this extraordinary time when COVID-19 has impacted all our lives, the Cancer Support Community is proud to recognize individual and corporate leaders who are providing essential support and free professional assistance to cancer patients and their loved ones by giving to our Cancer Emergency Fund.
Our community is deeply grateful to these champions of patients for their loving and generous support. 
Give to the Cancer Emergency Fund Today
The Cancer Support Community provides the content on this webpage for informational purposes only. The information does not constitute medical or legal advice, and is not intended as a substitute for consultation with a licensed medical professional. Please follow the guidance and of state and federal health officials.