Breaking Down Barriers in Native-American Cancer Care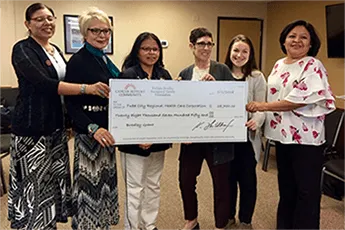 Last week, two staff members of the Cancer Support Community (CSC) traveled to Tuba City, Arizona, the largest community on the Navajo Nation and home to more than 8,600 people. There, they met with Navajo and Hopi leaders to learn about the unique challenges facing Native-Americans and their access to cancer care.
The following is a Q-and-A with programs and services manager Katie Dimond about her experience in Arizona.
It is a first in a series of new CSC programs working with Navajo Nation leaders, medical leaders, and other advocates to create a ground-breaking movement for cancer support and treatment on the largest American Indian Reservation.
Q: To start, what was the purpose of your trip to Tuba City? What did you hope to accomplish?
Tuba City Regional Health Care Corporation (TCRHCC) is in the process of constructing the first-ever cancer treatment center on a reservation in the United States. In partnering with them, this space will include a CSC, which will provide resources and psychosocial support to cancer patients and their loved ones. We went to Tuba City in order to learn more about the community, specifically the Navajo and Hopi people that we will be serving through CSC at TCRHCC. We hoped to learn about their cultures so that the services we provide will be relevant and culturally appropriate.
Q: What does the Barbara Bradley Baekgaard Family Foundation grant mean and how will it benefit the future of the Tuba City cancer center?
This grant is an incredible gift for the hospital and allows them to expand their services in building the new cancer center. The grant will assist in the aesthetic planning of the space as well as provide necessary technology such as tablets that will help CSC offer support services to patients and their loved ones. We are so thankful that we are able to provide these services to such a deserving population and thank the Barbara Bradley Baekgaard Family Foundation for their generous support.
Q: What are some of the challenges that Native-Americans face in terms of cancer treatment?
We learned that the Navajo and Hopi in this area have financial difficulties and concrete needs that make accessing treatment and services especially challenging. For example, they currently have to travel long distances, to Flagstaff or Phoenix, to access cancer treatment. Many cannot afford to make these frequent trips and sometimes this impacts whether or not they receive treatment. The launch of a cancer treatment program on the TCRHCC campus will remedy this issue so that patients can receive care in Tuba City. In addition, many on the reservation do not have running water or electricity which impacts daily life as well as post-care required after cancer treatment.
Q: Going forward, what are some of the next steps with the Tuba City partnership?
After learning about the specific needs of this population, we are working on adapting current CSC services to accommodate the population that TCRHCC serves. This could include translating our educational materials into Navajo, revising our distress screening tool, and thinking about social support (like a cooking class) that would be of interest to this community.
Q: Is there anything else you'd like to share?
We were surprised to learn just how many barriers those on the reservation face in terms of lack of resources. They don't have adequate access to cancer care, clean water, electricity, the internet, transportation, or healthy food. We saw firsthand the need for both medical and psychosocial resources. We were encouraged by how honest, open, and trusting the Navajo people we met were, even though they maintained traditional practices, like seeing medicine men and engaging in healing ceremonies. Their culture engages a beautiful harmony of mind, body, and spirit and the idea that health is dependent on the balance of these things. We look forward to continue working with the warm and welcoming team at TCRHCC and providing support for their patients.