Running the Distance: CSC Supporters Take on the 2021 TCS New York City Marathon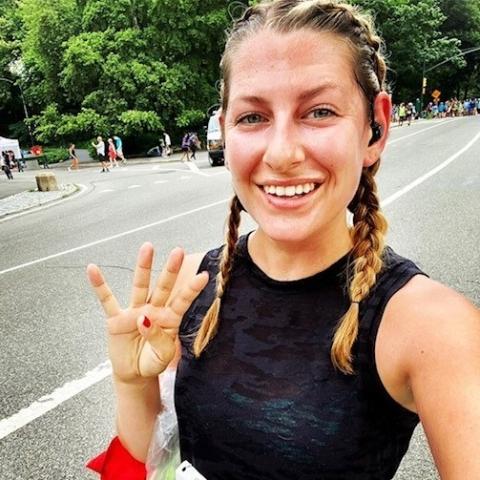 Running a marathon is, unquestionably, a feat of endurance. As the late cardiologist and runner Dr. George Sheehan once wrote, "The race has become my theater for heroism, and of all the races, there is no better stage for heroism than a marathon."
This fall, the Cancer Support Community will be cheering on several heroes of our own in one of the world's largest marathons. CSC is an official Community Charity partner of the 2021 TCS New York City Marathon. On Sunday, November 7, our marathon team — named CSC United — will run 26.2 miles through the city's 5 boroughs.
But a feat of endurance isn't the only goal our team members are setting out to achieve in this race. They are running the distance to help people impacted by cancer. Their mission? To raise a minimum of $12,500 for CSC. All funds raised will provide free support and navigation services to cancer patients and their families.
Among the team is Michelle Cabot, who has watched her own loved ones navigate cancer diagnoses. Michelle recently chatted with us about why she joined CSC United and what she hopes to achieve as part of this small but mighty team.
How did you first become involved with the Cancer Support Community?
I am the event coordinator at Feinstein's/54 Below [a cabaret and restaurant in New York City]. Back in September 2019, I had the honor of coordinating a benefit concert for CSC called Marin Mazzie's Sunflower Power Hour. On September 13, 2018, Marin Mazzie — one of my favorite Broadway performers, whom I had the honor of seeing perform many times at 54 Below — passed away from ovarian cancer. The event paid tribute to Marin's achievements and advocacy.  
Editor's Note: Both Marin and her husband, Broadway star Jason Danieley, were honored at our 2016 Annual Celebration with the Founders Award for Empowerment. The award, now called the Marin Mazzie Award for Empowerment, is presented to prominent individuals who use their platform to advocate for cancer patients and their loved ones.
Why did you choose to join CSC United for the NYC Marathon?
I chose to join CSC United for the NYC Marathon because I wanted to be sure to join a team that I was passionate about advocating and fundraising for. I truly cannot think of anyone in my life who hasn't personally been affected by a friend or loved one having to navigate life with a cancer diagnosis. I love that CSC offers community and support to not only the patient receiving treatment, but also their loved ones. Also, after working closely with the staff at CSC for their benefit, I realized how incredibly kind, inspiring, and genuine the people who work for this organization truly are. The connection to the Broadway community made it even more personal for me.
What is one thing you wish people knew about CSC?
I would love for people to just know that organizations like CSC exist! I've watched so many loved ones navigate their own diagnosis, or a loved one's, feeling so lost and overwhelmed. When I first visited CSC's website, I was floored by all the information there — especially on steps to being a caregiver. Years ago, my mom was a huge support to a dear friend of hers who was diagnosed with cervical cancer. She would help her friend by doing everything from driving her to chemotherapy and helping organize fundraisers for her treatment, to just being there as a support for her. I wish she and others knew about the information and, more importantly, the emotional support and community that organizations like CSC offer.
Is there anything else you'd like to share with us?
Just so excited to be a part of the CSC United marathon team! I hope to raise $100 for every mile of the marathon for this amazing organization.
*  *  *
Tune in on November 7 to catch our team as they make this run. The race will be broadcast locally on ABC7NY and nationally on ESPN and ESPN2.
Follow our race updates on Facebook
If you'd like to support Michelle and help people impacted by cancer, donate today. Your contribution will help CSC reach and exceed its CSC United team goal to raise $12,500. Together, we can make a difference in the lives of individuals living with cancer.