Understanding Cancer Cachexia: Cancer-Related Weight and Muscle Loss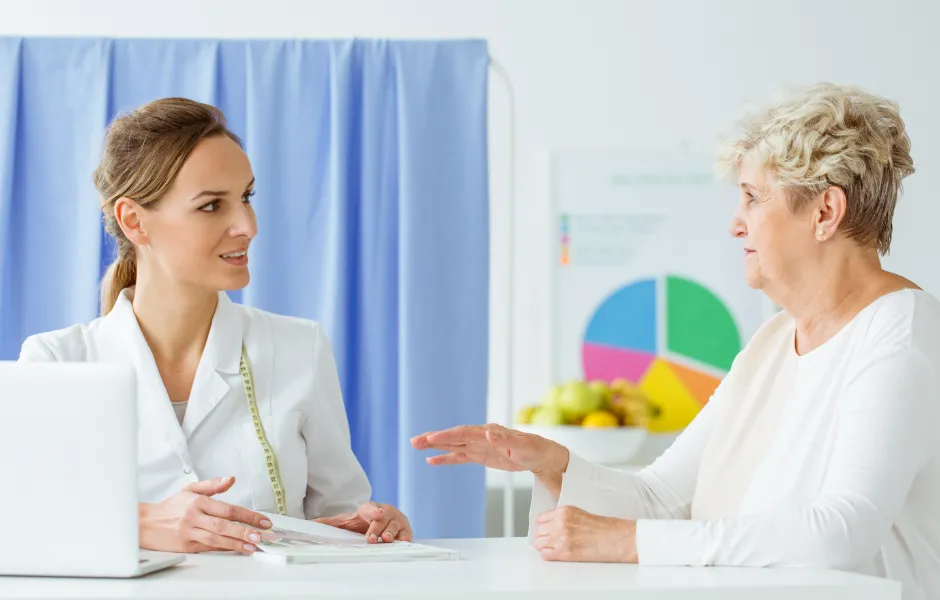 It is common for people with cancer to lose weight. This may be due to treatment side effects like trouble swallowing, nausea, mouth sores, diarrhea, and/or decreased appetite. However, weight loss may also be due to a syndrome that is caused by the underlying cancer. Doctors refer to this weight loss syndrome as "cachexia." Cachexia is also called cancer cachexia, wasting, or cancer anorexia.
"Cancer cachexia, as it is medically known, has made life as I knew it unrecognizable."

— Rochelle, cancer survivor
What Are the Signs & Symptoms of Cachexia?
While many people have never heard of the term cancer cachexia, it is estimated that the syndrome occurs in up to 80% of all patients with cancer (Lim et al., 2020). Cancer cachexia occurs primarily in advanced, metastatic, and/or incurable cancers and does not usually happen in early-stage cancer (OncoLink, 2020).
The major symptoms of cancer cachexia are:
Significant weight loss: The most common sign of cancer cachexia is drastic and unintended weight loss. This includes muscle loss as well. This chart helps illustrate the amount of weight and muscle loss that may indicate cancer cachexia: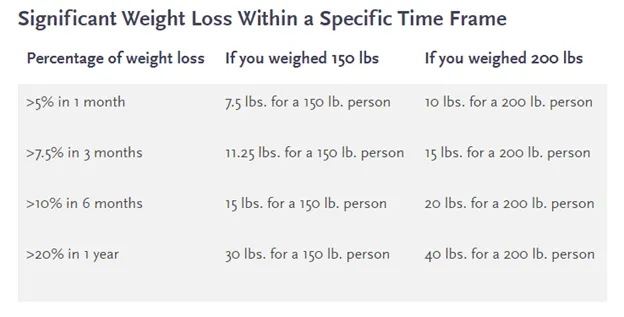 Weakness and/or fatigue: People with cancer cachexia may find it hard to do everyday tasks they previously did routinely, such as walking, chores, social engagement, and other daily activities.  
Loss of appetite: People with cancer cachexia may have no desire to eat.
Cancer cachexia is mainly seen in patients with certain types of cancer, including pancreatic, gastric, lung, esophageal, colorectal, and head and neck (NCI, 2011).
What Treatments Are Available for Cancer Cachexia?
Cancer cachexia is not currently preventable, nor is the weight loss it causes completely reversible. But people with cancer cachexia may benefit from treatments that stimulate appetite, build muscle mass, and help manage other side effects. These treatments or management tools may include:
Nutritional supplements like high-protein, high-calorie, nutrient-rich foods and drinks
Synthetic hormone therapy or hypermetabolism medication
Anti-inflammatory medication
Exercise or physical therapy
Nutraceuticals
Cancer cachexia can have a significant impact on a patient's psychosocial (social and emotional) well-being. Visible changes in body image due to significant weight and muscle loss can cause distress and anxiety. Many cancer cachexia treatments focus on managing the psychosocial effects caused by the syndrome, including providing support for cancer cachexia-related distress to help improve quality of life. These management tools include:
Yoga or meditation
Individual, couples, or family counseling/psychotherapy
Support groups
Watching a loved one lose weight and have no appetite to eat can also cause anxiety and stress for caregivers. Cancer.Net (2020) has some helpful tips to consider when caring for a loved one with cancer cachexia, including recognizing that a loss of appetite may not be within the control of the person with cancer cachexia.  
"I guess I wish that we had realized, and that our providers had told us, how serious the cachexia could be. We were all focused on the lymphoma, but it was the cachexia that actually carried him away."

— Martha, caregiver and family member of cancer patient
Getting Help From Your Health Care Team
It is important to notify your doctor if you begin to lose weight unintentionally. This is the most common sign of cancer cachexia and may be the first visible sign of the disease. If you are living with or suspect that you may have cancer cachexia, it may be helpful to talk to an oncology registered dietitian (RD) for nutritional counseling. RDs are experts on diet and nutrition. They can provide education and advice about which types of food to give a person with cancer cachexia when they choose to eat. An RD who has the letters CSO after his or her name is a board-certified specialist in oncology nutrition. He or she has demonstrated experience and skills in developing healthy eating plans for cancer patients. You can search online to find an oncology registered dietitian, or you can ask your health care team to recommend one.
Raising Awareness of Cancer Cachexia
Although up to 80% of individuals with advanced cancer have cancer cachexia (Cancer.Net, 2020), many never receive a formal diagnosis. It is critical to raise awareness of cancer cachexia and develop new treatments that both manage the symptoms and improve the quality of life for people impacted by cancer cachexia.
On November 2, 2021, the Cancer Support Community held a virtual meeting to raise awareness about the impact of cancer cachexia. This meeting was focused on listening to and learning from patient and caregiver perspectives on living with cancer cachexia.