Be Here Now: A Q&A with Director Lilibet Foster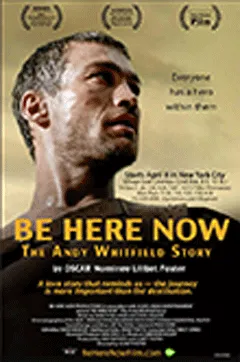 This week's blog post is a Q&A with Academy Award nominee Lilibet Foster. Lilibet is the director of the documentary film Be Here Now (The Andy Whitfield Story), released this Spring. Be Here Now follows the story of actor Andy Whitfield, his wife Vashti and their family as they embrace life rather than fear after Andy is diagnosed with cancer. Watch the trailer here, and learn more about how you can screen the film in your community here.
Q: Be Here Now is promoted as a love story—an idea a lot of people might struggle to reconcile with what they know about cancer, can you describe why that description is accurate, and where the Whitfield family's cancer journey fits into the idea of a love story?   
Lilibet: When I started filming Andy and Vashti's journey, immediately, what I found so remarkable was how they approached everything in their lives by setting their sights on their goals and making them happen. Andy, with Vashti's support, did this by becoming a star as the lead of the international hit television show, "Spartacus," at 38. And how, faced with this new unexpected challenge, they were focusing that same powerful determination into beating cancer. Yet simultaneously, they have this way of both manifesting their destiny, while being present and living in the moment, with each other and their family – despite the dramatic roller-coaster ride they are forced to go on. I hoped that if I could capture this, their story may be inspiring to others. I was also struck by what I saw as an irrepressible emerging love story between Andy and Vashti – in moments between them, the way they play off each other, their tenderness, hilarious sense of humor and mutual support – even when they clash, disagree or break down. It so leapt out at me while filming, that I went back and re-watched the inimitable seventies movie "Love Story." And, as I filmed, their children and Andy's mother and father came together to support them, so this part of the story expanded into the love of a whole family. In this way, I hope the film captures the story of the caregivers, whose added hopeful and positive support I've come to see, can be a big part of the well-being of the person who is battling cancer. The caregiver's role and perspective, which comes through in the film, isn't always seen. Now during our screenings at Village East Cinemas in New York City, followed by Laemmle Santa Monica Cinemas in Los Angeles, starting on April 15th, audiences and the press have been picking up on this love story thread and we are grateful that they are sharing and writing that they find the film "inspiring" and "uplifting," which is what Andy and Vashti hoped for when they were willing to share their journey in a documentary.
Q: Be Here Now has received lots of recognition and acclaim, including the Los Angeles Film Festival's Audience Award for Best Documentary, a nomination for the Spa City Best Documentary Award from the Hot Springs Documentary Film Festival, and designation as an Official Selection of the Santa Barbara International Film Festival. What specific qualities of the film do you think illicit such strong connections with viewers?
Lilibet: As an observational style filmmaker, it is a privilege and responsibility to follow extraordinary people through some of the most important times of their lives. It is humbling to be able to tell these stories. In fact, I hesitate to even call these "films" which seems either trivial or not descriptive enough. This is especially true with Be Here Now (The Andy Whitfield Story), because of how openly Andy and Vashti allowed me to follow them with a camera, throughout their personal, dramatic, often humorous, and intimate journey. Although Andy is a celebrity, through the film, both he and Vashti become approachable. Viewers have told me that they feel as though they are there with them – in their home, car, on the beach – enjoying a joke including comments about his sex drive, the interaction with the children, experiencing an argument and being privy to Andy's doctor visits and treatment results. And, I hope that I've managed to capture some of those universal themes that we all share and care about no matter what language we speak or what continent we live on, such as, family, health, goals, love and the world outside of us (or spirituality for lack of a better word). For me the observational style of verite is what I hope brings us together and most closely to our own individual as well as shared human experience. And, in their telling, they often shed light on universal or topical subjects, issues and questions and revealing life-lessons.
Q: How do you think your experience filming Be Here Now and your position in the Be Here Now community will shape the rest of your life? Do you think that your connection with the Whitfield family has impacted how you live your life?
Lilibet: Making this film has been extraordinary and the most impactful experience of my career. Andy and Vashti's courage, positive determination and the love and enthusiasm they put into their journey, is very inspiring and aspirational for me personally. Equally impactful is how they are able to powerfully achieve their goals and make their journey into something extraordinary, which Andy did by becoming a star at age 38, yet manage to live in the present and really appreciate their lives, despite the potential outcome. I knew this theoretically, but it is not easy to walk that fine line between living with purpose – manifesting your destiny, if you will – while being in the moment, and accepting and embracing what may unfold. I am now trying to actively do the last part of this in particular, which is a constant pursuit. The fact that we have an over 2.6 million person strong Be Here Now following and outpouring of support both from the public and the press, has been encouraging because I hope it means that this film is being helpful and inspiring to people, while shining a light on the need for more cancer research, treatment and patient support, as Andy hoped it would. If so, this would be the greatest gift to all of us behind the making of this film.
Q: What do you think is the most important thing audience members should be thinking about as they leave screenings of Be Here Now?
Lilibet: As I mentioned above, if I have managed to capture some of the essential universal elements of life, that we all share and care about such as our families, love, health, job, aspirations and challenges, then each viewer may take something different from the film, depending on what they bring into the theater. Even while I was making the film, some days it made me think of my relationship, my family, our health and obstacles, my career as a documentary maker or my personal goals. So, I hope that people will leave the theater thinking about how this story relates to their lives, and being inspired to go do something they have wanted to do, fulfill a dream or reach out to let others in their lives know how much they mean to them, as well as help them with their journeys with cancer or other health issues and challenges.
Of course, we hope readers and audiences will want to see the film by reserving tickets and encouraging others to see the film, as well as set up screenings of the film to raise awareness and funds for the incredible, powerful and necessary work of Cancer Support Community, by going to our website www.BeHereNowFilm.com.